Learn a few advantages of Doing Affiliate Marketing Online:
Many people thinking of starting an online business and for them, I refer to learn about the benefits of affiliate marketing.
If you are into the Internet Space, you may probably come to know about this online business.
Most of the people were starting and running affiliate business very successfully for years.
Let me uncover the greatest benefits when you become an affiliate marketer through this article?
What is Affiliate Marketing?
Affiliate Marketing is a great way for anyone to generate a primary or secondary income that only uses their computers and creativity.
Affiliate Marketing is when you promote products from other people on your web pages, or web ads, and earn a commission when a sale is made through your reference.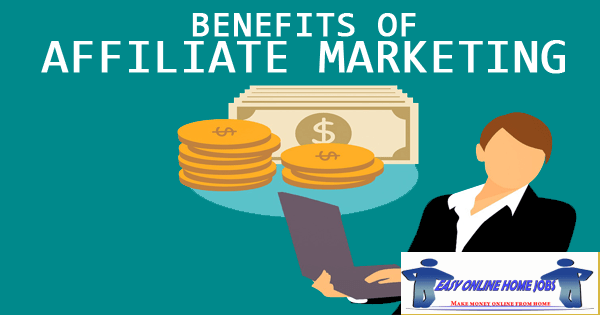 It's just when a company pays commissions for promoting their product to online marketers, called affiliates.
When a consumer clicks on a link to buy something from the company from the affiliate's web content, the company then pays a commission to the affiliate.
Who can Start this Business?
Anyone who would like to earn extra income and have basic knowledge of affiliate marketing can start this business.
Since this online business can be done at home, many women have started doing affiliate marketing business.
One of the greatest benefits of affiliate marketing is that you can promote so many different types of products.
You can even get paid affiliate commissions from physical products to digital products just by getting people to sign up for mailing lists and free trials.
The only requirement is to choose the right products or services to promote on your blog or on social media network.
Choose a wise product based on your passion and interest because you have shared your experience to sell your products.
It's best to start with one or two products with a new affiliate marketing business.
PROS and CONS:
PROS of Doing this Business: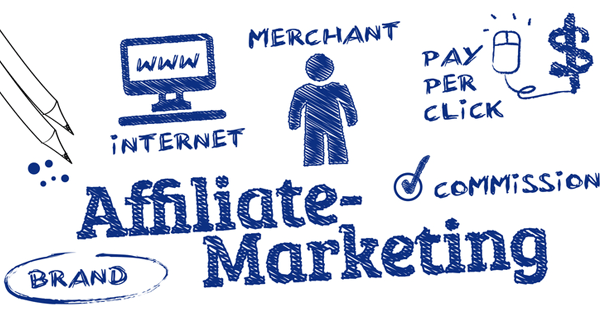 1.) All you have to do as an affiliate is promote the product of the merchant and refer potential customers to their site.
You don't need to have your own product, nor you need to buy it from merchants to make money.
You don't even need to make a sale in some affiliate programs but you can get a commission from them as long as you have referrals.
2.) Affiliate marketing can be done in our own comfort zone. You don't need to go out and meet potential clients.
You can introduce the product to as many people as you can with just your website, with the convenience of the internet.
3.) You don't have to work on being an affiliate full time. You can keep your day job and do online marketing as a way to earn extra income.
4.) You can earn good money by just selling one product unlike other online money-making opportunities such as pay per click, online surveys, etc.
You can find affiliate programs that can even give you the product you sell about 50 percent commission.
5.) If you are a merchant, an easy way to advertise and promote your product is to start an affiliate program.
You don't have to worry about getting your online store targeted traffic as your affiliates are going to do the job for you.
You will also be sure that you will only pay for advertising if the product is sold, so you will be assured that output will occur.
CONS of Doing this Business:
There are also disadvantages in affiliate marketing, like any other means of making money online, which is why it is important to weigh the pros and cons of affiliate marketing before you decide to start.
1.) It may take time to see good commissions come in with this scheme, but you may find it easier to get a sale for the first few months if you start with an established website.
Another thing, after the sale of the product you don't get paid immediately as you have to wait for your commission earned in the previous month may take another month.
2.) Some unscrupulous merchants may also lower their commission rates a couple of weeks after signing in or after generating a good number of referrals.
3.) Merchants can also shut down their programs without notice, leaving you empty-handed.
Although there are downsides, the marketing of affiliates remained one of the great online opportunities to make a good profit.
4.) Risk of money loss, if you use pay-per-click marketing techniques and have not done your research properly, there is a risk that your expenses will outweigh your revenue.
5.) As affiliate marketers, opportunities increase so does the number of active competitors pushing the same or similar product as yours.
Top 8 Benefits of Affiliate Marketing:
1.) Performance-Based:
To begin with, this method of marketing practice is a performance-based payment, at least on the merchant's side.
A merchant will not pay his affiliates in performance-based payment unless the networking process has actual results.
This enables merchants to pay their affiliates on a sufficient basis, and others will not be able to take advantage of simply placing an advertisement on their website and automatically direct anyone who clicks on it, regardless of the results.
They can earn additional income for these affiliates and earn a reasonable percentage of whatever the company earns from the customer as long as their purchase is guaranteed.
It is also a good opportunity to expand your list of connections that may be beneficial to you as well as to the company in the future.
2.) Wide Product Range:
Some people who work from 8 to 5 don't really like their jobs or their employers. They're just working at the end of the month to get a paycheck.
The beauty of working as an affiliate marketer is that you can select and run a product niche that you love. It is a great way to earn money to run a marketing business in this field.
Working in the affiliate marketing business benefits include low-risk, high-return business opportunities, no glass ceiling to worry about, minimal work experience required, wide product range, as well as working at your own pace.
3.) Cost Effective:
Another important feature of internet marketing is that with little or no pocket expense it is possible to start your business.
This is the lowest investment decision possible in today's world to start a market place-wide business. You can often use free resources to start your business if you don't have any cash to invest.
Compared to an offline business, it is comparatively measurable to start an online affiliate marketing business!
You only need to start with less than $100. In fact, from free promotional methods, you can start with nothing and still make money.
4.) Less Technical Skills:
One of the notable benefits of affiliate marketing is that you need a basic skill to start and run this business.
All you need is the ability to communicate effectively and a moderate level of skill with the internet.
There are many universities offering degrees in internet marketing.
However, for a very small online investment, there are much more valuable resources.
Indeed, if you have plenty of time and are a great researcher, you are likely to find free online training hours and hours.
5.) Works 24×7 for you:
Once you've set up a successful affiliate marketing business, it's amazing to have a potential income while you're sleeping or vacationing.
There's work to be done, like all businesses, to get your new business up and running and maintained.
You need to work on your business on a regular basis, at the beginning every day for a number of hours, but as your success grows, you need less time and effort, and your business will only continue to produce.
It will always be necessary to refine and update, but as you become more experienced, your choice, your business, your hours, your profits are the time needed to attend to matters.
So as your business grows, while you're doing other things, it will generate an income for you.
6.) No need to Create a Product:
Affiliate marketing's most important benefit is that you don't have to create or produce any products.
This is the merchant's job of creating the products.
Your role as a marketer is simply to select the products you want to promote, pick up affiliate links and start your business.
You can focus on selling the product as you do not need to be involved in manufacturing or supplying the products.
7.) Improves Brand Visibility:
Using all means available to affiliates to secure sales, including displaying ads on their website and listing search engines.
At the end of the day, their efforts, whether they yield sales for them or not, ultimately offer you greater free visibility as a brand.
More and more people get to know about you and your existence, even if they don't end up turning into conversions and that's good for business.
8.) Offers Targeted Benefits:
Affiliate marketers are very specific about where ads are posted.
They also know the exact target audience and work for their benefit only with the most suitable demographics.
Therefore, you can be sure that every effort is targeted and that there are quite high chances of receiving positive responses.
Last but not least…
As you can see, joining this business has some serious advantages. Of course, before you join, there are some things you should learn about it.
For example, you should learn some SEO and SEM, because you're going to have to drive traffic to your links and pages.
Besides that, you will have to dedicate yourself to find out which options will work best for your needs and how to make them fit your existing lifestyle.
You'll find that getting started with it isn't a hard thing, and if you take your time, it can be easy to master.
Conclusion:
Affiliate marketing takes a lot of hard work and time, so what's the point of even trying it?
Many people have discovered that the work it takes to be a successful internet marketer can get some sort of grueling that prevents them and others from wanting to do it.
This article is intended to tell you why marketing affiliates is worth the hard work. The first is that without spending any money, it is one of the few ways you can make money.
Even if you don't spend a lot of money on it, you still have a lot of income potential.
Compared to the investment you have to make, the amount of money you can make is why it's so good. Another reason is that you're in control.
You choose when you work, and when you sit at home, you get to do it. You're in a comfortable setting, and wherever you want you can take breaks.
Just make sure you don't get too lazy because there's a lot of work you have to do. You've probably considered those benefits before, but there's more.
One of the great benefits of affiliate marketing is that you can get a job with a large payout when you get into affiliate marketing.
So, if you're not happy with the money you're already making, marketing affiliates is a great way to get the extra money you need!!!