Study what do you mean by Affiliate Marketing Business and start your business today?
All people want to make some extra money to earn from their free spare time. To those, I would surely recommend trying an Affiliate Marketing business because it can make it easy to earn more than $1000 – $2000 every month.
Why I wanted you to choose this marketing business is because you can make money in dollars and not in pennies like any other jobs such as PTCs, Surveys, Captcha entry jobs, etc.
An affiliate business can be the most lucrative online business and there is a wide area of opportunities for everyone in different ways.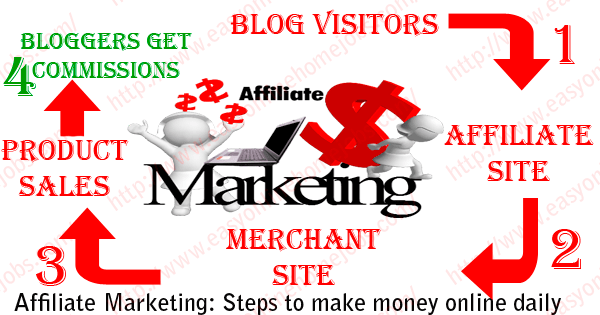 Let us spend your next few minutes revealing the potential behind this great business opportunity that made many millionaires around the world and now it's your turn.
This business pays in a variety of ways such as when:
The affiliate makes a sale (Pay-per-sale).
The affiliate generates a lead (pay-per-lead or pay-per-action) such as signing up for a free trial.
The affiliate meets a threshold of impressions on his / her blog.
When someone clicks on the affiliate's link through his blog.
This is not just selling someone else's product and earning commissions but there are other ways available to make money.
We will see furthermore in detail about this business in this article.
1. What Do You Mean by Affiliate Marketing?
Affiliate marketing is a kind of performance-based marketing business which rewards its affiliates based on their gross visitors or customer bringing into their market.
In other words, we can explain as, as a blog owner you will be rewarded for helping other's businesses through different means of promotion either through display advertisements or text and banner link ads.
For example, if you join for hosting company affiliate program and promoting their products on your website or blog.
Whenever any sales are made through your blog visitors, you will get a commission.
That is, just for sending traffic to their affiliate site and if they converted into their customers and made a purchase you will be rewarded.
This program is one of the quickest and easiest online money-making methods as you don't have to own any products or services by yourself.
But just promoting for others will make you money.
Just connect buyers with sellers through some means of advertisements, and taste the fruit of commission on the sale.
2. How Does the Affiliate Business Work?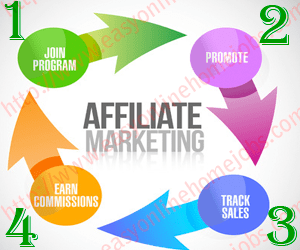 It works just simply.
When you join an affiliate program and choose some products to sell, you will get unique affiliate HTML codes to display on your blog or website or email, or forums.
Use the code to refer visitors to the target page of your marketer, whenever any sales were made you will receive a commission.
It is an automatic process with the state of the art software that manages every action by itself.
(i.) You just have to sign up for an affiliate program, and then choose the product to sell.
(ii.) Most affiliate programs have made their own text links, banner ads, and other forms of digital media advertisements for their affiliates to promote.
(iii.) Just copy the code and paste it into your blog or website and refer your visitors to their site.
Visitors landing on their sales page through your blog or website, if made any purchase or subscribed to a service you will make a commission.
You can access all data and information in your user dashboard.
You can view complete details about all sales and commissions made by you.
3. Why Should I Be an Affiliate Marketer?
Why should you need to choose this business because it is now the fastest-growing business model and having a huge potential to make money online? Internet's best marketing technique that proven successful for many years since. All business empowers itself referral marketing business and this led to huge growth.
Let's see some more valuable points that add more support here:
      3.1. No Need to Invest
Starting affiliate marketing does not require any initial investment because you don't need to have your own product or service to sell.
      3.2. International Market
You can reach people globally to sell your affiliate products. Since the internet works as your medium of marketing, it's easy to reach people across the world.
      3.3. No Storage, No Shipping
You don't need to do anything on order taking, packing, shipping, delivering the product.
All will be taken care of by the seller.
      3.4. No Customer Support
You don't need to provide any support or deal with customer complaints at any cause.
      3.5. Residual Income
One-time work and daily returns. Yes, once your blog starts receiving daily traffic it automatically converted into customers.
This, in turn, reflects on your daily sales and you will earn a daily commission. You can create a steady flow of income even when you are out.
      3.6. Work From Home
You can work anywhere, anytime. Even work from your home at your comfortable time and it's not necessary to work daily.
No boss, No target, No monthly meetings, No regular 9 – 5 job timings.
4. How Do I Start an Affiliate Marketing Business?
I think I have explained so far about this wonderful business. Now if you are getting ready to start, you just need to learn the initial requirements to start. Yes! Every business needs a setup to work.
If you want to make money online from affiliate programs, you need to have these things:
A blog/website
Basic web designing skills such as HTML, CSS
Content writing skills
Blog marketing work (SEO)
Before you plan for an affiliate marketing program, you need a place on the internet to promote your affiliate products. I mean a website or blog with at least decent unique visitors every day.
Without visitors, you cannot convert them into money. Because think if there is no one to visit your blog and click on banners, how you will make money?
I have covered why blogging was so necessary for making money online in another article that you should read before continuing further. Anyhow I will give precise information about those things here so that it helps you get some idea.
A blog is also called a web page which consists of any information on what people are searching for? You can blog for anything from passion to fashion, education to training, cooking to painting, arts, and entertainment, etc.
By the way, while providing information on what people need; You can monetize it by using many methods such as,
Displaying Ad Sense ads,
PPC,
CPC campaigns
and
You have to constantly update your blog with new posts every day with new content to make your visitors come every day. This will help you to get a better ranking in search engines to drive more potential visitors.
Also search engine bots will like your blog and give you better rankings in their search results. Which in turn helps to increase revenue from your monetization methods, here I mean affiliate marketing.
Driving traffic to a blog is a challenging task and it requires much time and effort. You need to work on SEO. Write quality content and submit it to search engines.
Do off-page SEO activities such as link building activities, social network sharing, and social bookmarking, etc to drive visitors.
5. Tips for Successful Affiliate Marketer
Affiliate marketing business will help you to make money online, but if you thought you will become rich overnight through this program then you are wrong.
It is a proven way of success but it requires time and dedicated work but highly competitive. You need to learn every new market trend and needs, learn how to market a product, what works well and what doesn't, etc…
Because all products are not the same that we can say it will bring success with the same marketing techniques. Still, if you follow these tips you too can become a successful affiliate marketer:-
5.1. Choose Only the Right Product
Not all affiliate products will bring you success. This is the biggest mistake that lot of affiliate marketers will do.
They register with all affiliate programs and try to promote all products at the same time. This won't give you success unless you end up with empty hands.
First, make research to know the present trend in the market and look for products that have more needs today and also align correctly with the topic of your blog.
If you blog for any web designing and hosting program, but promoting beauty care affiliate products will not bring you any sales.
5.2. Use Several Traffic Sources
Most newbies think that blogs are the only way of promoting affiliate products. But there are many other traffic sources where you can tap into promote your products simultaneously. You can even get more targeted traffic from these sources and can have more chances of converting them into customers.
You can use Facebook, Twitter, G+ pages to promote your affiliate referral links to drive traffic to your landing pages and blog is the not the only source.
5.3. Monitor Your Affiliate Campaign
It is better to try different marketing methods for product promotion so that you can figure out which is working better and which one is performing poorer.
Try to do split testing and analysis to measure the performance of each of your promotion campaigns accordingly. This can help you to make changes in some area which needs improvement simultaneously increase your profit.
If you run a blog, place different banners on different sections on your blog pages to test its performance. Some positions will give you a high percentage of conversions.
Test, measure, and track your affiliate campaign using external conversions tracking software apart from native tools already provided by the affiliate programs.
5.4. Research The Demand For The Product:
Product with lesser demand will not perform much in the market and also your sales will be lesser than you planned.
Spend enough time to research and find the right product for the promotion.
Promote products based on your audience's needs. Conduct a poll on your blog to get input directly from your visitors.
5.5. Register With The Right Merchant
When you promote a product remember you are not only promoting the product but promoting the person or the company behind the product.
So choose wisely, because your site visitors will go to buy the product based on your advice. If they become unhappy after purchasing the product they won't come back to your site? Think about it.
It will affect your site credibility in long run. Generally speaking, website/company that offers good customer service only will survive for a long run.
When promoting affiliate products, try to find new tools to try and E-books to study that will help you to perform more efficiently. There are a lot of tools available in the market to try.
6. Setup Your Own Affiliate Business:
6.1. Decide Your Business Model
There are two business models in affiliate marketing first one is to start a resource site and the second one is to a review site. It entirely depends on your chosen product and based on your familiarity.
Resource sites are the sites that having information about the products or services that the visitor going to know about.
It is usually embedded with a merchant affiliate link or a sales page or banner advertisement with related posts. These types of blogs require fresh and new daily updates to ensure the repeated visits from the customers.
Review sites feature reviews about a product/service that the affiliate has tried.
Each review includes a text link or banner link that will take the visitors to the sales page. The main advantage is that the site is not necessary to update frequently.
6.2. Select a Niche
Once you have decided which blog will be suitable, and then select a niche before beginning marketing products or services.
After that write related content for your blog and update it frequently. It's not necessary to choose a niche that you already knew but you can choose a field where you can able to show interest in learning new things. It can also bring you success.
Initial setup takes time, plan your job and work strategically to lay a strong base for your new career.
6.3. Create a Website/Blog
If you are set ready to start an affiliate marketing business, first you need to set up your own blog or website. After that, you can display text links or banner ads and lead your blog visitors to their sales page or lead page and convert them into customers.
If you do not have a blog/website you can create one now. You can start a free blog with Word Press or Blogger or else you can go for your own hosting and domain registration.
You can register your first domain for Rs.99 from Go daddy and buy hosting also from them. I would better suggest going with Own domain and hosting because you can have more control over what you are blogging about?
After setting up your blog, write quality articles related to the niche and start promoting your blog first until you get a steady flow of traffic.
6.4. Choose Products and Services
So now you have your own blog with decent traffic. Let's start finding products and/or services to promote your blog which align with your blog content.
Do not try to promote all products from different merchants at the same time as it will ruin everything.
Join affiliate companies such as Commission Junction, Amazon, Flipkart who already having state of the art software which automates every process in affiliate marketing.
They have a wide diversity in the range of products with potential marketing aids and tools that help new affiliates have to perform well during their beginning stages.
6.5. Market Your Blog and Drive Traffic
Once you have built your blogging platform, now you need to drive traffic to your blog pages. This traffic which in turn lead them to your affiliate sales pages or lead pages through a banner or text link ads. 
You need to drive more traffic to your blog each day and it should increase every day.
There are many ways to bring traffic to your blog such as through social sharing, sending newsletter emails, post comments, and links to other related blogs.
Update your blog by writing more quality articles and build a reputation for your blog. You can even build your reputation by meeting and engaging with other affiliates in this field.
This can be done by creating large followers and fan pages for your blog via social networks.
You can contact other bloggers and online marketers who share a common niche, asking them to promote your product, in turn, you offer their product promotion which is mutually helpful to each other.
Make use of forums such as ShoutMeLoud, Problogger, Emoneyspace and create a productive discussion with them will also help to market your affiliate products.
Digital Point, the best web, and Warrior forum are great excellent and free resources for affiliate marketers. Make use of this place to develop your business skills.
7. How to Get Your Payments?
This question I should answer because this is the end of whatever business you come upon. All this was just because to make some additional revenue.
Most affiliate programs have their own software that automates every process right from accepting the order, processing for shipping and payments, splitting their payments to merchants, and commission to affiliates everything.
You just have to make a free account, find the right product, get HTML codes and paste them into your blog or website. Promote your blog and convert your visitors into customers and earn commissions.
Most affiliate companies will pay their affiliates via Payment processors such as PayPal and/or Payza. Hence it becomes mandatory to have one verified account with them before you choose an affiliate marketing business.
And all that's it,
I hope you have your best time reading this article about the affiliate marketing business which will give you a new idea to make money online.
All online business needs effort at the beginning but once you completed setting up everything surely will leverage your residual income.
Do I need to cover anything further, let me know here?
Share this article if you found it worth it.