Bloggers want to monetize their blogs. Here find the list of Best Paying AD Networks for Bloggers, Publishers in 2022
Hi Friends, Today's article is about the importance of blogging and tips to generate revenue from blogging. Also, I have added the flavor of Ad Networks for Bloggers.
To start with, first, you have to know in and out of the Blogging business. Blogging is a means through which similar thinkers and communities get connected worldwide.
It simply connects teachers with students and business people to reach more and more clients. Blogging also helps Google to run its own search business by displaying quality search results.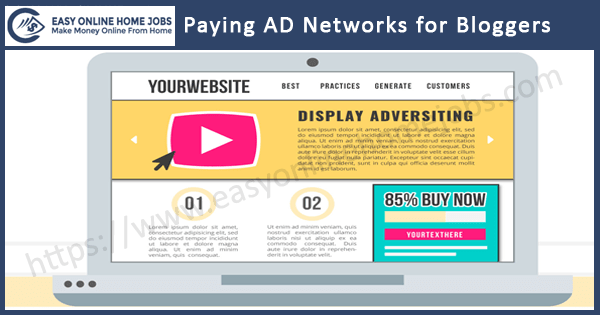 In another way, the good news for beginners is blogging is not only for sharing views, but you can earn through it.
The question is, How?
By displaying relevant or native ads on blogs monetized with Google Adsense, people can generate revenue.
People follow different methods to create blogging revenue. But showing ads and affiliate marketing is a widespread method among bloggers.
In India, the well-known platforms are Google Adsense, Amazon Affiliate Marketing, and Web Hosting affiliate programs.
Most bloggers integrate these methods only. But, many other popular ad networks are available to monetize a blog.
Let's see those listed here in this article.
Best 10 Ad Networks for Bloggers
If you are a beginner blogger, don't worry as I am here to guide you through. Have you started the first blog, and does it begin to attract enough traffic?
Now it's time to think of monetizing your blog in an effective way to earn passive income. Below I have summarized a few of the best Ad Networks to help you to create revenue from your blog.
Before going deep into details, let's know how you earn by Ad networks usage in your blogs. That is, most ad networks for bloggers pay you in two different ways:
Pay-per-click advertisements (PPC): You will get paid only when your target audience clicks on ads.
Pay per view (PPV) or impression ads: You will generate passive income based on the number of views for your ad linked on your blog. PPV ad model can sometimes earn you a fixed revenue till a certain count of thousand or impressions. You can expect $1 to $6 per thousand impressions or even more.
1. Infolinks – Smart Ad Network for Bloggers
Infolinks is a popular ad network for bloggers. They offer a variety of ad types you can use on your blog. If you are a beginner, then you can give this network a try.
You can choose any of the Infolinks offers in-text ads, overlay ads, banner ads, or in-screen and in-frame ads. Create a free account to display ads on your website.
The minimum threshold payout limit is 50$. Infolinks pays through different means like PayPal, Payoneer, Bank Wire Transfer, and Echeck.
1.1. Method of Monetization
Unlike other ad platforms, Infolinks is usable to either big or small online publishers with no setup fees, no minimum page view or visitor requirements, and no hidden commitments.
You need to just follow the below steps:
Sign up for a free account.
Paste the Infolinks code into your posts.
Get paid when people visit your blog.
1.2. Application Procedure
Infolinks have got a quick signup process. You want to enter your blog or website URL, email address, and password.
You'll get an email notification once your application is approved in just 20 minutes.
Then, sign in to the dashboard and start customizing your ad units and locations.
However, keep in mind that it can take several days for all advertising partners of Infolinks to review your site.
They will find the best ads to display on your site to make sure you earn high.
2. Ezoic – Intelligent AD Network for Bloggers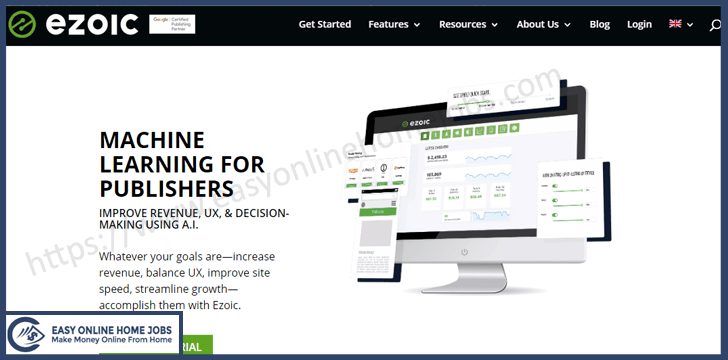 Ezoic looks like a great alternative to large networks like Mediavine and AdThrive.
It lets you optimize your revenue by testing ad placements, sizes, and publishers to discover the combo which makes you the most money.
Their ad network is more diversified across different geographical locations and demographics.
Thus, if your traffic comes from all around the world, Ezoic can deliver relevant and fascinating ads.
Which can inspire different country readers? Moreover, Ezoic comes with a user-friendly dashboard and great customer service.
The minimum payout of Ezoic is $20. You can get paid via various methods as shown in the below screenshot.
2.1. Method of Monetization
Just like AdThrive, Ezoic is also another Google Certified Publishing Partner. The only drawback is that you can sign up for Ezoic only if your blog gets 10,000 daily visitors.
2.2. Application Procedure
There are -5- steps that you need to follow for Ezoic integration into your blog:
Create an account and link it to your blog using Cloudflare.
Add the Ezoic script to your blog's header.
Convert all existing ad units to serve via Ezoic, and create new ad units.
Apply for Google's Ad Exchange program.
Start using the Ezoic Ad Tester.
3. Google Adsense – Turn Your Passion to Profit
Adsense is the oldest and most popular ad network you've heard of. It offers different ad types for your blog.
I use Adsense to monetize this blog. And I display both text-based ads and banner ads for my audience.
Thus, you have the option to choose where you want to display ads and how they should look.
You have an Auto Ads option, and using that, you can disable it at any time if you dislike it.
AdSense has a minimum payout of $100. If your traffic is low, it might take a long time to reach the threshold level.
3.1. Method of Monetization
Google AdSense works on a cost-per-click and revenue-sharing basis method.
This means that your main task will be making visitors make as many clicks to those ads.
3.2. Application procedure
Here is the application process for Adsense:
Check whether your website is compatible with their program.
Sign up for your account.
Login to your AdSense account.
Add the AdSense code.
Wait for 1-2 weeks for the board's final review & approval.
4. Media.net – Contextual Advertising Platform
Media. Net is another great ad network for both new and established bloggers. When coming to monetizing your blog using contextual ad networks, Media.net is one of the best publishers.
Forbes, Hearst, Meredith, Yahoo, MSN, Reuters, Kiplinger, and many others were using this program. Thus Media.net is worth trying by all publishers.
However, the higher the quality, the harder it is to get the Ad network's approval.
Media.net has a minimum payout of 100$ and pays via PayPal and Web Money.
There is no minimum traffic requirement to join this network. It is the best feature for new and small publishers.
4.1. Method of Monetization
It offers contextual ads of CPA, CPM, and CPC programs powered by Bing and Yahoo.
So the quality of advertisers becomes very high, and the publishers can also use ads from Yahoo and Bing.
4.2. Application Procedure
Go to the Media.net website.
Now provide the name of your website and your email address. Then click on Continue With Signup.
Now type in your name and the captcha code required. Then click Submit for Approval.
The application process only takes a few minutes. However, account approval may take 4 or 5 business days to about a week.
Once your account is approved, each additional site submitted must also be approved.
5. Propeller Ads – Popular Display Ad Network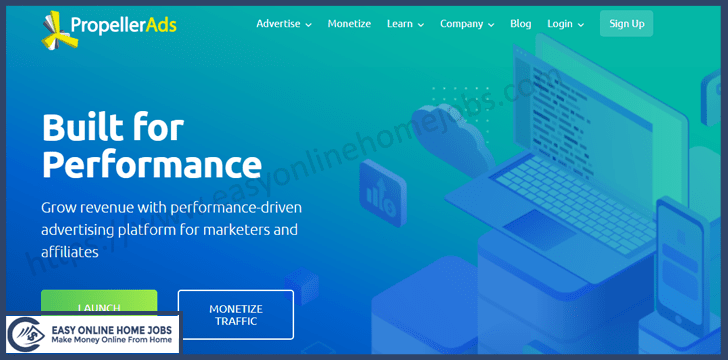 With instant approval and fast payments, Propeller Ads is a popular one for bloggers. Propeller Ads works across multiple locations and is multi-compatible.
You can access it through mobile, desktop, social media, software, games, etc.
The minimum payout is 100$ for PayPal and Payoneer and 550$ for wire transfers. The payout threshold varies as per the payment medium.
5.1. Method of Monetization
Propeller Ads offers CPM, CPA, and CPC ad programs and features real-time reporting.
The dashboard is easy to track performance and earnings easily.
5.2. Application Procedure
Visit the Propeller Ads Website and register yourself.
Click on the Main Menu and select the option "Register".
Choose one option whether to register as a Publisher or an Advertiser.
Enter the basic details in the form.
Enter the details about your Campaign.
Now, Tick the box and agree to the terms and conditions
Verify your email address by clicking the link in your mailbox
Create a password for the account
6. Mediavine – Best for Blogs with Decent Traffic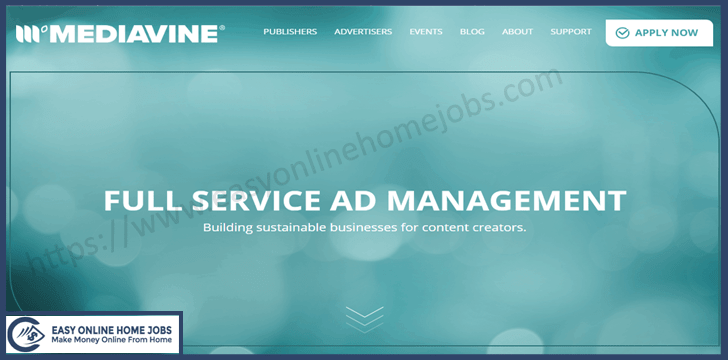 Mediavine is another best ad network for bloggers because of their earnings potential and personal support features.
However, their minimum traffic requirement of 25,000 sessions per month which is high, is a great long-term goal to strive for.
Mediavine is a faster, more user-friendly ad delivery method than most other ad networks for bloggers. Faster page loading speeds gain more page views and higher ad income.
Moreover, Mediavine has a large network of both publishers and advertisers. If you're into a lifestyle, fashion, food, or travel niche, Mediavine is one of the best AD networks for Bloggers to choose to make money.
You can earn $15 or so; revenue per 1000 pageviews. The different payment methods include Paypal, Domestic ACH, International ACH, U.S wire transfer, International wire transfer, and paper check.
6.1. Method of Monetization
It's a CPM-based Ad management company.
6.2. Application Procedure
Once you have submitted your application, it will request you run a Google Analytics report so that they can check your site's traffic.
Once you are approved, they will review your site for no potential issues which may prevent you from displaying ads.
7. Monumetric – Pursue Your Passion Profitably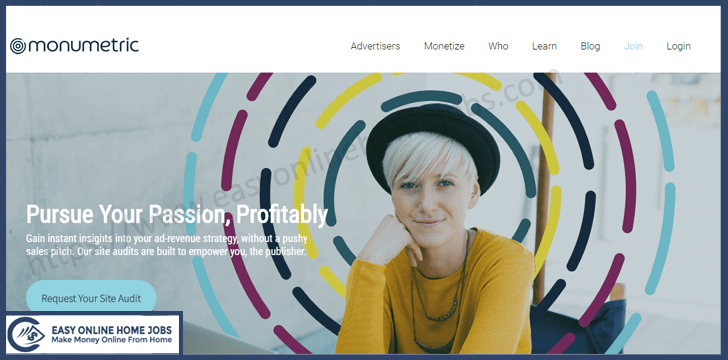 Monumetric is one of the most powerful ad networks for bloggers out in the market. If you have enough traffic, you can start blogging using this Ad network.
Monumetric covers show in-article ads, dynamic video ads, or banners within your posts or in your sidebar.
Bloggers can make anything between $5 to $30 per 1,000 pageviews with Monumetric. You need at least 10,000 monthly pageviews to integrate Monumetric.
You need 60 days net period for the release of your payment. Payment methods include Paypal, Bank transfers listed in the dashboard.
7.1. Method of Monetization
Whenever someone visits your blog, Monumetric automatically generates dynamic ads based on your content and your visitors' interests.
Monumetric is different from others as others offer Static ads (Eg: Google Adsense).
It simply follows the PPV model. When someone is reading your blog posts, their ad units keep increasing.
Furthermore, it shows more new ads thus you generate more ad impressions, clicks, and money.
7.2. Application Procedure
For Joining this network, you have to give a setup fee of $ 99. For that, you have to choose any of the below four programs like Propel, Stratos, Apollo, and Ascend.
They are categorized based on the number of views per month. Fill out the propel form giving out the below details on the final page.
Administrative login URL for your blog.
Admin username and password.
Your email address for getting in touch about the implementation.
After everything, you have to wait 2-6 weeks to know your approval status.
8. PopAds – Suitable for Showing Pop-under Ads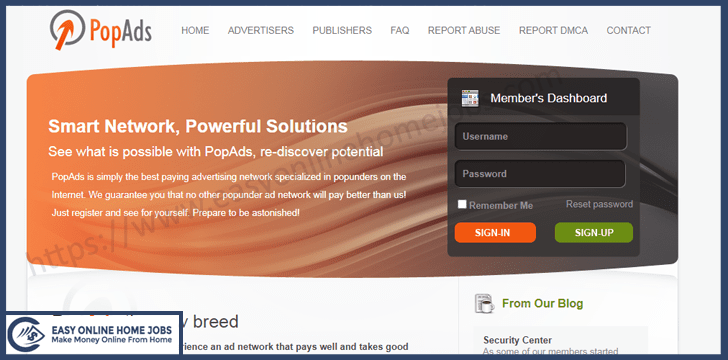 PopAds are one of the premium networks that any blogger can choose. This is suitable mostly for small publishers because they have no minimum traffic requirements.
It was started in 2010 and promised to offer 100% fill rates. They allow all types of blogs such as illegal ones, porn sites, and "adult" related content.
Once you signup, you have the option of setting an auto-withdrawal option. This way, your payment will be released once you reach the minimum payout threshold. The minimum payout is $5.
8.1. Method of Monetization
It is a High CPV-based Ad network.
8.2. Application Procedure
The registration takes 2 minutes. Whether you register as a Publisher or Advertiser type, the form will have 10 standard fields to fill out.
After registration, all the Publishers and Advertisers features will be provided on one account only.
Once you've signed up, the dashboard is divided into three main sections Advertiser's Panel, Publisher's Panel, and Account Manager. You can drive traffic by creating a new campaign using the advertiser panel.
9. Revenue Hits – Convert Your Blog into Income Property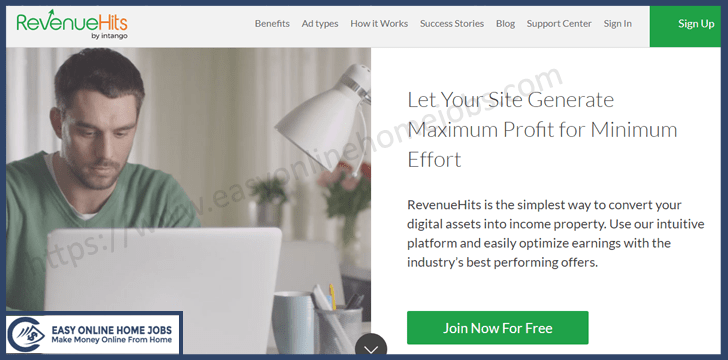 Unlike all other ad networks, Revenue hits don't pay based on clicks or impressions. Instead, your income is based on a cost-per-action (CPA) model.
It doesn't have a minimum traffic requirement but rather gives importance to your content and blog niche. If you engage your readers well and make them ready to purchase, your income could grow very fast.
You can see payouts of up to $10 to $50 per acquisition, based on the advertiser.
9.1. Method of Monetization
CPA means that the ad must be converted to sales or sign-ups for you to earn money.
9.2. Application Procedure
Like any other ad network sign-up procedure, Follow the below steps:
Go to the Revenue Hits website.
Fill out one step registration procedure.
Provide an Email address and other login information.
Click on the Sign-Up button.
You will receive an email once your sign-up procedure gets approved.
10. AdThrive – Suitable for High Pageview Blogs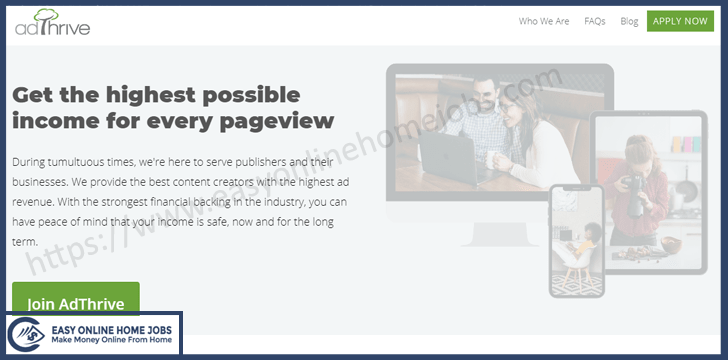 AdThrive is recognized as the best CPM-based ad network for bloggers. However, this also makes AdThrive selective when it comes to new bloggers.
But you can give it a try to sign up and see whether it is approved. If your blog doesn't get approved, get in touch to find out the reason.
They might guide you with a few actionable steps to take to improve your approval chances. Also, they offer readers a few courses that can boost RPM and increase their earnings.
The minimum payment threshold is $25. AdThrive Payments methods include Direct Deposit, PayPal, Paper Check, US Wire Transfer, eCheck/Local Bank Transfer, and International Wire Transfer.
10.1. Method of Monetization
It is a CPM-based ad network available for bloggers. The Minimum traffic requirement is 100,000 readers.
10.2. Application Procedure
Like any other ad network sign-up procedure, Follow the below steps:
Go to the AdThrive website.
Fill out one step registration procedure.
Provide an Email address and other login information.
Click on the Sign-Up button.
Conclusion
At the end of the day, this article has nailed you through the best Ad networks from which you can earn.
After all, you're putting so much effort into creating content and growing your traffic. I believe that work deserves a fair return, right?
With that note, Be ready to give away some blog space for others to advertise on. It's something like a sharing business out of which you can generate more money.
This article is to help you get an overview of the best ad networks for bloggers.
Whether your beginner at blogging or your blog has already thousands of readers every day, this should help your blog income more.
I hope you found a few helpful tips to move forward with blog monetization. Also, also an idea to display ad networks to consider working with!