The pure success of the Affiliate Business is based on the Right Affiliate Product
The affiliate marketing success is based on one thing and it was the right product (or) service you promote on your blog.
Nearly 80% of new affiliate marketer's fail to earn money from Affiliate Marketing because they don't know to choose the right product.
At, Easy Online Home Jobs, in today's session we will be going to discuss this important aspect of this lucrative marketing business.
In the previous post, I have shared how to start a blog for affiliate marketing, which is now useful to you if you get through it.
It's not as easy to achieve success in this affiliate business, but it is not as complicated as you may think.
Just work with focus and concentrate on the present market trend to become a successful affiliate marketer.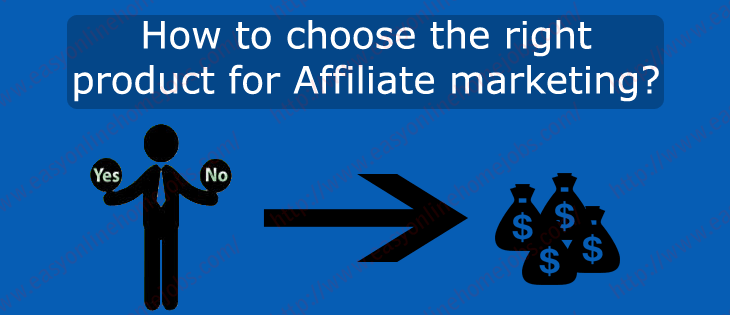 Keep this important point: Always promote affiliate products that you personally use (or) your friends have tried in their past (or) presently trying. It's not just about selling a product to someone through your blog.
It's about establishing a friendly relationship between your blog visitor and yourself, which in turn helps you recommend some products you tried to them. So, there you can get the conversion, I mean sales, which leads you to make the commission.
How to find the right product?
In this part, you should refresh your knowledge about, How to start a Blog for Affiliate Marketing? and How to start the Affiliate Business? Get some tips from these articles and then start your further session.
[page_section template='1′ position='default' shadow='#1e73be']Table of Contents
1.) Find your Niche
2.) Find and understand your Audiences
3.) Choose the Best Selling products
4.) Work on Multiple Products
5.) Choose the product having High Commission
6.) Promote trustable partner products
7.) Join Only One Affiliate Program
8.) Join Individual Affiliate Programs
[/page_section]
The following 6 Important aspects are the main thing you need to understand before starting the business.
1.) Find your Niche:
This is the most important thing that often I repeat everywhere because I want you to stay focus on your track. Not every blogger achieve success on multiple niches because it's difficult to manage.
A niche market means to a particular market and focusing on the promotion of the particular products and services related to the topic (or) title.
It's your first movement in selecting the right product for your affiliate business. Suggested Niche Market's are: Domain & Hosting Niche, SEO Software Niche, Computer spares & Accessories, Smartphones are the best choice to start your business.
Find the right niche based on your interest, skill and passion is the first thought, I want to feed you. Of course, you can spend a lot of time for research on this sector and come up with the working niche.
If your chosen niche has the lots of competition, then go for sub-niche within the market that suits you the most. Select the few products and then start a blog based on the product for promotion.
You should have the existing knowledge of the niche you were chosen, is a big advantage when you start promoting through your blog.
Already you have started the blog for Affiliate Product Promotion, so keep an eye on it and never forget to choose the right product on the niche you know.
2.) Find and understand your Audiences:
This is the next important thing in this business. If you start a blog to promote products related to Domain and Hosting, then it's very important to learn,
i.) Who is the buyer?
ii.) What they are buying?
iii.) Where are they mostly located?
What are you going to promote was entirely based on your target audience? So, you should study your target audience and understand their need to figure out the interesting products they can buy.
Choose those products for your marketing to get your desired success. Also, once you got the audience, you can't simply sell the product to them, you need to write a convincing article, get some real testimonials (or) often better if you have one.
Search Google to get more information (or) participate in the related forums on your niche. This is a great way to find your marketplace and target audiences.
Always tend to provide a clear picture of the product you are going to promote on your blog. Keep it straightforward and try to write a detailed explanation, description, and include testimonials, etc., which can help you get more conversions.
3.) Choose the Best Selling products:
So you are in the right niche and you have the market to sell the products and people are ready to buy. But,
Always choose the best selling products in the industry so that you make the profit.
Go to ClickBank to search for some good hot selling products to promote on your blog. They use an index called "gravity" that tells you the complete information about the product, based on its total sales, user review and geographic sale location, etc.
Choose the best selling products based on high gravity as it has the potential of a high number of sales. Other programs such as ShareASale and Commission Junction also has this index list which tells you hot selling products.
4.) Work on Multiple Products:
This gets you to work freely and play safely among your competitor's. The reason is that if there is only one product available to the market for that niche, then you will have to compete with existing established affiliate marketers.
This lets you down easily and so I recommend you choose multiple products on the same niche (or) choose any products on the sub-niche so that you can work on more area of product promotion.
Try to understand clearly that, Multiple Product does not mean to work on Multiple niches. Don't get confused about this.
5.) Choose the product having High Commission:
There are various products on the affiliate marketing business where you can earn a commission from $1 to $100 (or) sometimes in the percentage as 20% to 75% of the sale is made.
You cannot become rich on selling 50 products every day which is having $2 as a commission per sale. To make your work effective and worthwhile, you should promote the product of the high percentage of commission.
Keep in mind, promote the product of having at least $20 (Rs.1000 INR) as a commission per sale. You can use any means of promotion such as Organic traffic through blogging (or) Paid advertising such as PPC, CPC campaigns, etc.
This article might be useful to get you some knowledge about how to drive traffic to your affiliate product.
6.) Promote trustable partner products:
This is of the very high important aspect in this business because you rely entirely on the merchant's value.
Yup! Affiliate marketing is not just selling products but it's about creating a trust for you so that people can buy based on your suggestion.
Choosing the right product to promote is the first stage in the affiliate marketing business but choosing the right merchant is also as important as choosing the product.
7.) Join Only One Affiliate Program:
It's not advisable to join all the affiliate programs at a time even if you have the selected best selling products. This will drastically reduce your productivity levels because affiliate marketing business needs lots of A/B testing, time, effort and concentration.
If you have a single resource you can easily manage and analyze the areas for improvement unless it will be a difficult task. Even your audiences won't trust you because of various promotions on your blog.
For an example, In the Domain and Hosting Affiliate Business, there are many competitors who sell products (or) services at highly competitive prices. Compare for an example: GoDaddy, Bluehost, HostGator etc.
It's healthier when you compare these competitor's once but often repeated circulating promotion's would confuse your visitor's and make them leave your blog as earlier.
Also, you can't able to curate relevant articles, track your progress and metrics. Thus makes you more uncomfortable and even confuses you to focus on the single product.
The result, ultimately you will end up blogging business for affiliate marketing with no results. So only I am saying, start working on only one program at one time and after you derived the results, move (or) add more programs.
8.) Join Individual Affiliate Programs:
Most of the hot selling products have their own in-house affiliate programs, where you can join directly and earn the commission per sale.
Find the product of this category and use the opportunity to promote these products. You can easily find these types of products by doing a simple Google search, "Affiliate product name + affiliate program".
It's not suitable for the entire niche, but there may be some possibilities to choose these kinds of programs. The biggest advantage is that, if you turned out to be the best seller, you can earn bonus commission per sale where your revenue may increase.
Final Thoughts:
i.) Choosing the right product is the first stage to become a successful affiliate marketer.
ii.) The second most important stage is finding your target audience and work on the right affiliate marketplace.
iii.) Finally, build trust among your audiences so that they can be your long-term customer and also recommend you in their networks, thus helps increase in conversions.
Do not start your business over-night because most of you thinking that just creating an offer page (or) lead page (or) sales pages is all enough to make the sales.
Practically, this will not work unless you have built a brand around you (or) on your blog.
So, use this advice at the beginning and start this lucrative business with all the knowledge and you will reap the rewards of making many great sales and earning huge commissions.
I am sure that, I have converted your time productively by feeding you these tips.
If you are eager (or) having plans to start an Affiliate Marketing Business, then EasyOnlineHomeJobs was ready to support you with all necessary knowledge and tools.
[page_section template='2′ position='default' shadow='#eeee22′ padding_bottom='on' padding_top='on']
FINAL VERDICT
1.) Choose the Right Product
2.) Register with One Program at one time
3.) Promote to the Right Audience
4.) Install, Track, Monitor and Analyze the results.
This is what I want to conclude on this topic. What's your suggestion (or) idea? Let's discuss here in the comments.
[/page_section]