Learn about various Affiliate Marketing Scams.
Last week, we have discussed about Is Affiliate Marketing a scam (or) not? Today, we will learn more to develop our knowledge of common affiliate marketing scams.
Affiliate Marketing business is a legitimate business in the online industry and there is no second opinion in this decision.
Some people are achieving success from this business and many people fail due to some sort of issues they are facing during their course.
This is happening because of little (or) no knowledge about the business and mostly lots of newbies often fall prey to these scams.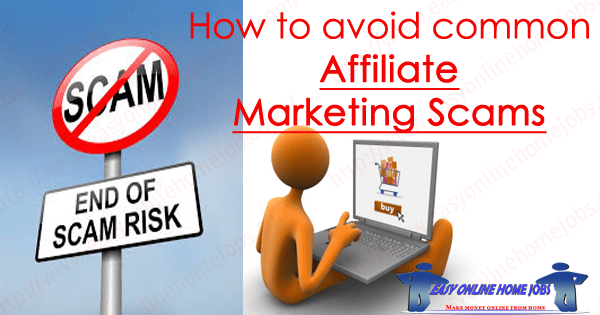 The scam is common in every online industry, there are many people doing these kinds of practices every day in the world of online business.
They always try to find innocent people using various online resources and approach them with some magical offers to take money from them and will go away.
Social media is one of the widely used platforms by most of the scammers. Let me explain you some of the common affiliate marketing scams in this article so that you can be safe in your course.
Common Affiliate Marketing Scams:
1.) Get Rich Quick Schemes:
The most important reason every people start working online was to make money. When you search the Internet, you will find lots of online jobs opportunities available to all people with a different skill set.
Affiliate Marketing is one of the successful business models in the streamline that makes you earn thousands of dollars every month without spending much efforts and time.
This achievement is possible only if you are ready to put such great efforts in your beginning to become a successful affiliate marketer.
The success in this business takes time, but some people have created a magical wind that Affiliate Business is a kind of Get Rich Quick online business.
They promise you will make thousands of dollars overnight (or) in just a week of work (or) some people even say it's an autopilot mode which is set ones will pour money into your bank account every day.
If anyone tries to sell you a "Secret Method", do not fall into them and be cautious. Stay away from such offers because legitimate business takes a bit of time to learn and deploy.
You need to create your own strategy and implement it into your daily routine to achieve success to make such great income.
2.) Fake Training:
This is another common affiliate marketing scams targeting only the newbie's and novice affiliate marketers.
Hundreds of new people were entering into this business without any knowledge and with some basic reports, they found themselves searching through the internet.
These online scammers target these few hundreds of people every day trying to sell their useless courses, Ebook, Webinar, Video tutorials and other kinds of few online stuff.
I am not saying all training programs are a scam but do your own research before you pick the best ones.
The strategy that worked for one's success will not guarantee success to the other. But many newbie marketers were not aware of this thing and often fall into them.
Even when you bought those training materials, you don't actually learn anything and all you lost is your money invested to buy the materials which are the pure profit to the scam seller.
Think that, if one scammer sells his fake training program of $500 value to at least 5 new people every day, he makes a pure profit of $2500 every day.
I recommend One-on-One training is the best and worth to take for newbies because every business is unique from one another.
3.) Phony Marketing:
In this type of online scams, the scammers use to call the newbie marketers in the view to convince them to try their Affiliate Courses.
Telemarketing is a common practice in all the business to get customers very easily and interact with them directly.
These phony marketers will call these newbies and offer them some Ebooks, DVDs, CDs, Webinars etc for some offer price.
They will say a huge price if you buy the individual products or things and offer less price if you buy all of them combined together.
Once you are ready to purchase the thing, they will ask you to pay the money to their account and send you some useless items for your investment.
This is an ultimate scam and you should be aware of this method of affiliate marketing scams and stay safe from being scammed.
4.) Fake Products (or) Services:
Affiliate Marketer's make money by selling products (or) services on behalf of other merchants. On every successful sale, the merchant will pay a commission anywhere from 10% to 50% from the selling price.
If any company (or) an individual promise you thousands of dollars in Income, analyze them very closely. Ask them the actual product/service which you need to sell.
Do small research to get few reviews and testimonials about the product and/or service before promotion. If you don't actually find the product/service, then it's a pure scam.
5.) Pay to Join Programs:
Affiliate Business is about selling a product/service and you get payments just for directing your referrals to the merchant site. Then, why should you invest to join?
Even you are not doing any bulk purchase and stock your inventory in a godown etc. Then, why should you invest to join them?
A legitimate affiliate business is free to join and they won't ask you any kind of direct (or) indirect means of investment. There are various kinds of different affiliate marketing programs but all of them are free to join.
So, when next time, if any merchant (or) an individual ask to pay a fee to sign up for their program, just quit them and disconnect from further communication.
6.) Domain Name Scams:
This sounds something unique and not popular with us, even for me in the beginning. I am currently running this blog in the name of easyonlinehomejobs.com, one fine day morning I saw an email in my inbox.
I opened the email and it was mentioned that someone is trying to register a domain name in our country with the same name you owned (in my case it's easyonlinehomejobs.com).
The funniest part is that they said as a note of courtesy to maintain your brand integrity worldwide, we are sending you this email as a part of growing your business.
They want me to protect my trademark in their country. My business is in India, then why should I bother about other country trademarks. Sounds very funny, isn't it?
Here the actual affiliate marketing scams come into action, when you reply the email, you will be sent a price list of all the available domain names.
Then, they will take off your money by making you purchase all the domain names which are not necessary to you ever.
Better put these kinds of affiliate scam emails into your spam folder.

How to avoid common Affiliate Marketing Scams?
The common rule of success in this business is laying your own strategy and implementing through your course.
Not everyone's business is the same. I am doing the Amazon Affiliate Program and I have my own strategy to get more leads and sales.
I have started a blog for doing this affiliate business but many people out there in the world are doing this business very successfully without a blog.
So, this reveals the fact that success completely depends on your own knowledge and interest. Follow the below best tips to make sure you don't get caught in affiliate marketing scams.
Research More:
The things you see and you hear may be the scam, but the thing you research deeply won't turn you scammed. The easiest way to joining any program without being scammed is possible by making a thorough research.
Simply do a small Google search to find all the necessary information such as Reviews, Testimonials, Merchant/Company history and lots more.
In the Amazon Affiliate Program, every merchant product has a lot of reviews, ratings, testimonials which helps affiliates to promote them with strong moral strength.
Search for the scam history of the merchant/company using the following search variations,
[affiliate program scam] + scam
[affiliate program scam] + testimonials
[affiliate program scam] + history
[affiliate program scam] + reviews etc.
Company Website:
Every online business has its own web presence to showcase all their products. When you just look at their website, you will feel their legitimacy with the business.
If you don't feel good at any part, flag them as a scam. Don't join them (or) promote them at any cause.
Commission Percentage:
Affiliate Marketing Business is all about earning commissions on every sale of the product/service. Normally, most of the programs pay a nominal percentage of commission only.
If the merchant/company is offering a very high percentage of commission, then they must be a scam in some ways and it's better to avoid them.
Do some more research as I mentioned above to understand their reality and learn about their legitimate business.
Make sure their products/services are good and genuine by getting feedback from their previous customers.
Conclusion:
Every business has Good and Bad, Legitimate and Scam. It's completely our own responsibility to find the legitimate business from the scam.
A little awareness about unrealistic ways of quick money, Ponzi schemes, and with no actual product based business will help you stay away from these common affiliate marketing scams.
Use your common sense and follow your intuition, nothing to worry about anything. There are many kinds of different affiliate programs available on the market.
PS: Easyonlinehomejobs strongly recommend starting the affiliate business with a blog. If you were the one searching for a good mentor (or) planning to start this business, then visit my offer page here.
I can get you an own domain name suitable for your business, and provide you one-on-one training 30days around the month until you begin to make your first affiliate income.