Start a Niche blog to Earn Money from the Internet.
Niche blogging is a similar kind of blog that started with the idea of spreading information about a particular niche product or service only.
Blogging is the most lucrative way of generating money from the Internet and among all if you want to make some fast money, start a niche blogging.
In this method of choosing a particular Niche for blogging, the blogger will be focusing entirely on only one trending topic ever.
Blogs are generally classified into two types:
One is the General Lifestyle blog
and
Another one is a Niche Blog.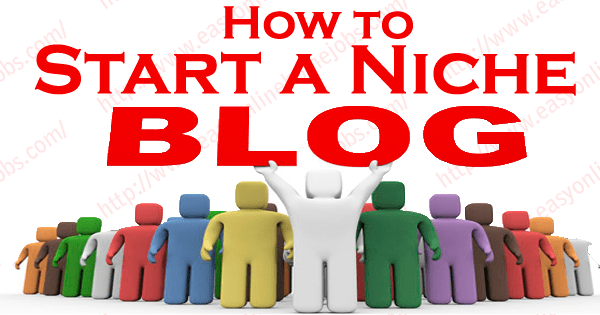 It's all about two things:
I am going to write about everything in Make Money Online (General Blog)
I am going to write about Data entry Jobs in Make Money Online (Niche Blog)
If you can able to understand this difference, then it is so much easy for you to decide which type of blog will be apt for you to start.
Niche blogging is a perfect base to start your blogging journey because in these blogs you will have one mind, that has one purpose and one goal.
But many people end up writing one topic today and jump to another new topic tomorrow and the next one on the next day.
This will bring them to fail in driving targeted traffic to their blog. Later leads to confusion in the Monetization process and finally, they leave their blog.
For example, Easy Online Home Jobs was started to teach Affiliate Marketing, Online Surveys, PTC Sites, and Bitcoins.
When you look into this, all these methods will come under one roof "MAKE MONEY ONLINE".
What is a Niche Website?
A niche website is a blog that focuses on a large group of people with the same interest.
These types of blogs are so much useful for visitors because targeting a specific niche will give very useful and high-quality content to their users.
People search the Internet for one reason only but that may be anything.
Here, when you consider Easy online home jobs will give you an answer on How to Make Money Online?
If your blog doesn't provide a solution for their search then how your blog will be successful?
This is the reason why niche sites are so much successful.
How to choose a profitable niche?
There are four main things to analyze before choosing a successful niche for your new blog:
Your interest
Business value
Monthly search over time
Future scope
These ideas will help you to find a profitable niche to make more money.
Let's read some more information about niche sites and how to turn a niche blog into a profitable business over time.
Why are Niche blogs better for Make Money?
1.) Niche blogging always targets only a specific group of people of common interest.
2.) These websites are more specific and use only one or two targeted keywords for ranking.
3.) These sites usually won't get so much traffic unless like other blogs do, but they earn more income in terms of revenue when compared.
4.) One main reason is that these blogs will receive only targeted traffic from a specific group of people and their conversion will also be high enough than UN-targeted traffic.
5.) Building an authoritative blog consumes much time, effort, and patience. But building a Niche-Blog does need only perfect strategy, planning, and expertise only.
If you have planned to build an authoritative site or targeting on a broader keyword means, competition will also be high enough.
You won't succeed unless you pose own super SEO skills or have a dedicated SEO team with an endless budget.
Niche Blogs Keep You on Track
This is true for niche bloggers because they always focus on one topic and search for new trends and ideas on the same topic repeatedly.
This causes them to write more quality brainstorming articles.
But they are limited and narrowed down to maintain a boundary.
Getting ideas for a new topic is high in Niche Blogging.
Niche Sites are Easier to Monetize
Every people always blog for three things First is Money, Second is Money, and the third is also Money.
When it comes to the monetization part, niche blogging is the best way for an easy monetization process.
Because your topic for your blog was specific, with a proper content marketing strategy you can boost your ranking which will help to drive more targeted visitors.
Highly targeted visitors means high conversion ratio, which in turn gives you high revenue.

Broader niche means much competition which will get you only a few visitors a month.
Of course, you end up with fewer sales or even no sales sometimes.
But if you niched down to particularly focusing on one topic then it would bring you success.
Why because you will get a considerable amount of visitors who came to try any products or services you offer (which means more sales).
What are Micro-Niche sites?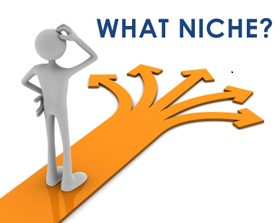 As I already told you, niche sites are the perfect way to make some additional money that will add up to your monthly income.
These websites are more specifically targeted to a particular topic or niche.
These websites can have a high conversion ratio where you can make a lot of money with less traffic but for a shorter time.
Limited topic means better quality content it has which will drive more visitors often thus jumping to higher rankings in Google.
A highly valuable Micro-niche site may often turn into an authoritative blog that will stand over time.
But it will happen on how you choose the niche based on the ideas given above.
There are many monetization techniques for Micro Niche blogging such as:
Google Ad Sense,
Commission Junction,
Amazon Affiliate Program etc.
Continue reading: A beginner's guide to the Amazon Affiliate Program.
Some Micro Niche Sites are:
Now I am going to give you some ideas of Niche websites based on some examples found from other successful bloggers and Internet marketers,
a.) Coupons sites:
You can start to sell movie ticket coupons, mobile recharge coupons, etc. by creating your own blog.
This way you can earn a commission from each sale and also you can make a second income by monetizing your blog.
b.) Training niche sites:
If you were particularly skilled in any field like programming, arts, drawing, painting, handcraft work, singing, etc. and you can able to teach them to others, then build a training niche website on that topic.
c.) Product review sites:
You can start a review blog on any products ranging from home care products such as kitchen utensils, equipment, etc., or any home electronic gadgets such as Samsung brand TV, Home theater, etc.
You can surely achieve success in far less than a few months expected.
d.) Nutrition / Fitness blogs:
Today most people have got them inside self-awareness about nutritive food habits and fitness maintenance over time.
This intention has great scope over a long period to get your blog to succeed.
When targeting topics on Nutrition / Fitness blogs you can choose health-related issues such as regular eating habits, weight loss programs, playing sports for physical movements, etc.
Just starting a blog focusing on a keyword and writing content will not make you money as you expected but you need to build your own strategy to make it work for you.
Last but not least . . . ,
Whatever niche you have chosen, first confirm whether you desire to have your passion for the topic.
Determine who your competitors were, account for your profitability in the future, and plan your long-run strategy, etc. which will help you achieve success over some time.
How Do You Start Niche Blogging?
Starting a niche blogging also needs some action plan unless you will end up with nothing.
Here are a few important points to note to run a successful niche blog:
Know your passion
Decide your blog life
Decide your monetization process
Right Keyword selection
Plan for a proper content strategy
1. Know Your Passion
So you have decided to start Niche Blogging to monetize it for money but you must understand your passion for the topic you are going to choose as it determines the quality and quantity of the content you will be publishing.
Because unless you are not interested you won't spend the time to search for a new trend on the topic.
A blog is your virtual world where you showcase yourself, and it should be felt by your readers.
I hear something that a Cookery blog will utterly give you success, but think about it if you do not know anything about cooking then how you will manage to run a blog on this topic?
You neither spend the time to research nor work on writing new articles which will end up nothing.
So, choose to blog on your passion which will make you master all the things and skills you need for blogging.
2. Decide your Blog Life
Trending niche always stays viral for a shorter period and later it goes off.
But, blogs like cookery blog is also niche blog but it stays for a long time.
Trending niche means, a blog on a Block Buster Hit Movie that is going viral.
Once after some time, the movie becomes old and will be no longer on air, your blog based on that movie will also be losing its position over time.
Ideally, if you choose to blog on passion and long-term opportunity you will go for a long run.
So consider a niche that has a decent amount of people interested and also an interesting product for the long term.
3. Decide Your Monetization Process
Perhaps it's true that most people will start blogging for money and niche blog does serve this cause very well.
The only thing is you have to find a perfect way to monetize your blog, plan either you use advertising methods or affiliate programs.
Whatever the monetization technique may be, make thorough research enough to find some decent high paying programs to monetize.
You can choose Google Ad Sense, Bing Ad Networks for display advertisements or Amazon Affiliate, and Commission Junction for selling products through your blog.
In both processes, you'll need a blog whose topic should attract a specific audience that has the power to make more sales or generate more leads.
And, you should need to build a decent flow of traffic from different sources before monetizing.
4. Right Keyword Selection
This is your first step in this process:
As your project will move towards success only if you have the right keyword in your domain name.
It is a bit time-consuming process as you have made some research over the internet to find the trending niche (Topic) to start a blog.
But, there is no need to worry about it because the internet itself has the answer.
You can use tools such as Google Trends, Google Instant, any online magazines, etc to get a lot of ideas.
The second step:
Identify your audience to whom you are targeting either a local audience or targeting an international audience.
Targeting globally is a nice decision because you have a huge market to showcase your work.
The third process:
Registering a Domain Name that should include your Niche keyword, is so vital to making your project a successful one.
Kind Advice: Never try to compete with internet giants because Niche website doesn't have that much authority to beat them.
If for example,
If your Niche Keyword was "Samsung Smart Phone – S Series".
Of course, many know Amazon was the leading giant in selling smartphones over the internet.
Whatever keyword you used to search including the above words, the first few results will be occupied by Amazon only.
It is very highly competitive to beat them with just a niche website. I think you can understand now.
5. Plan for a Proper Content Strategy
Once you started blogging on a specific topic, you need to deliver proper quality articles on that chosen topic to your site visitors.
Never go off track from your current position as this might end up your blog with the off niche.
Always choose a topic more likely than the previous one so that it can help you in many ways and keep you on track consistently.
Monitor your posts that bring in huge traffic because this is the indicator that shows where your blog performs well.
Analyze the post,
How did you choose the topic?
How you wrote the content?
What brings in organic traffic?
Write some more posts related to that most performing topic.
Also, work on removing articles that show poor performance as this will help you to build domain authority overall.
Restrict on a topic that is purely based on your niche and never write any off-topic content in your niche blog.
How to Build a Successful Niche Site?
To make your first niche blog a successful project to make money online from any monetization process, you will have to put in your hard work and effort.
Gone are those days when search engines rank a micro-niche site with one – five pages.
Google and other search engines have rolled out many new algorithm updates which put on heavy demand over the quality of the content that the blog or a site produces.
Their demand is tuned on a large scale which puts on more pressure on new bloggers to rank their blogs.
You should need to produce quality content that should help your audience to find a solution or answer a question.
How to Drive Traffic to Your Niche Website?
There are four possible ways to drive traffic to your blog during your starting days:
Free Organic traffic:
It is the best way to do more work during your initial stages and once your blog attains a higher ranking position then your work will be lesser and turns to give you more income.
Once you have picked your niche, start making some Keyword Research and write quality articles around the keyword.
Apply SEO strategies to get visitors from search engines.
Social Traffic:
More than half a million people around the world use social networks more hours in a single day.
Just use the advantage of Facebook, Twitter, and Google Plus to promote your content virally.
Create a business page on all social networks and acquire some followers.
Share useful contents to drive visitors through your page followers.
Post content that will go Viral.
Direct Traffic:
Email marketing is the best source to drive visitors directly to your niche site.
Setting up an Email campaign is considered a big process and building a list of trustable audience sources is also a big task.
But once done perfectly convincing your site visitors to become your email subscribers then you can send them periodic emails to convert them into your buyers.
Paid Traffic:
Traffic from search engines and social networks will take some time as you have to build your audience and trust among your audience.
If you are looking for some immediate results then you can take the way to drive traffic using some paid resources such as,
Buying banner spaces from other blogs, using Google Adwords, participating in traffic exchange sites, etc.
Work with care, and monitor your activities daily to find the weak areas of performance.
Make changes where ever necessary and keep an eye on the conversion ratio. If you fail to monitor your results then, of course, you will lose earnings from your niche blog.
Last few thoughts…
A niche blog is otherwise called a blog for a purpose.
It there exists for one particular reason, once you understood then you will get success.
You must know how to choose a topic for your next article from your previous article. As this will help you stay in your niche.
Building a successful niche blog takes much time and effort.
You should work hard with dedication and sincerity. Wait for the result to arrive as it takes some time.
Wait for the result to arrive as it takes some time.
Work, Work, Work, Obey the rules, Follow the rules.
Align with Google webmaster guidelines, surely you will get success for sure.
Leave your comments, suggestions, and/or questions below which will help to make some more research.
Was this post useful for you, did I cover everything and provided a satisfying answer to your question, please do respect my work by sharing this content.