Learn to Create a Small Business Website for your Affiliate Marketing Business.
Every business online should have a website for their online presence and it doesn't take you more than 10 minutes to create a small business website for your company.
In this digital world of the fastest economics, if you don't have a website, you may be losing your potential customers.
A Website is your digital home where you can showcase your products and services so that people can visit your website to know about your stuff.
You can easily reach the Global marketplace with a website.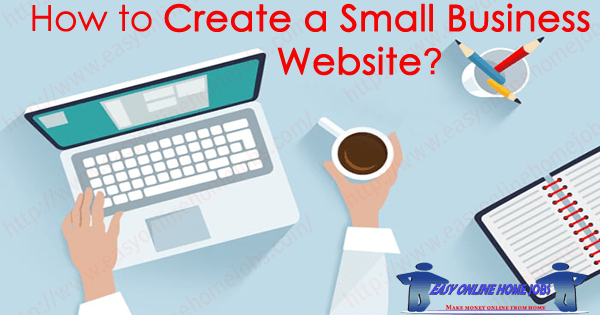 Let us learn how to create a small business website for your current business and reach out to the potential customers out there in this world.
I have detailly listed FIVE important steps to proceed in creating your website for the people.
These five principles are very necessary for every business owner when creating their website for the first time…
1. Choose your Passion
When you ask any entrepreneur whether they have started their first business after figuring it out all, they will laugh and say absolutely no.
The only thing they had is their passion and interest to start a business. It does not require to be knowledgeable before starting any business online.
Start with the right perspective and strong opinion on positive attitudes because if you think it's not possible to complete, then you won't.
When I completed my Engineering studies, many of my college mates attended campus placement and went to work for some company.
But I decided to choose to blog and to become an entrepreneur, luckily, I achieved my position after a year.
2. Find the Right Domain Name
This is the very first step in starting your first online business. Your website name tells your business nature and the products or services you are going to offer.
I decided to start an affiliate marketing business with a blog. Choosing the right domain name is like naming a baby.
It should be fit and perfect, it could be easily findable over the Internet. I thought a lot about coming up with the name Easy Online Home Jobs.
Be careful in choosing the domain name as it does not include hyphens, capital letters, or common words such as, "a", "the" etc.
3. Find the Right Hosting Company
Once you have chosen the right domain name, the next step is to figure out the right hosting for your business.
All businesses should have an online presence and if you don't have one website, then it fails you will lose potential customers.
As no one is interested to lose those valuable customers, it is therefore required to buy own domain today.
The cost of purchasing your own domain and hosting will not burn your hands.
In this article, let me explain to you the process of creating a small business website with Bluehost for just $2.95 / month.
STEP 3.1 – Go to RajSoftechSolutions.com: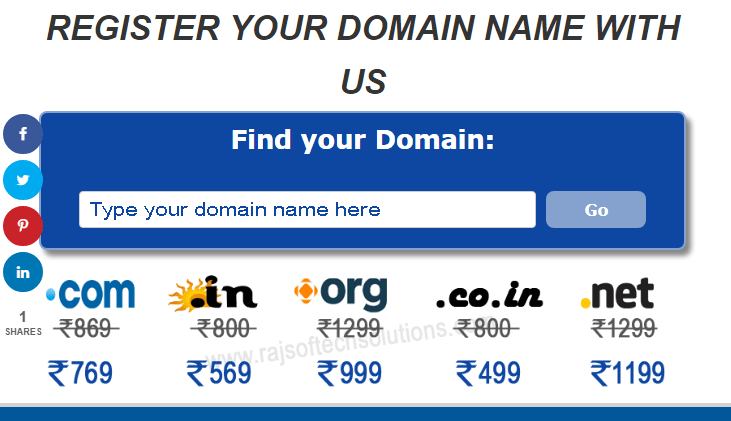 Easy Online Home Jobs recommends Raj Softech Solutions because this is the best hosting company for beginners.
You will get a domain name, hosting plans, and a professional business email all just for Rs.89 /- month.
Do you think this is a gift, of course, yes? Let me explain to you the process of creating a small business website for your blogging business.
STEP 3.2 – Select the Hosting Plan: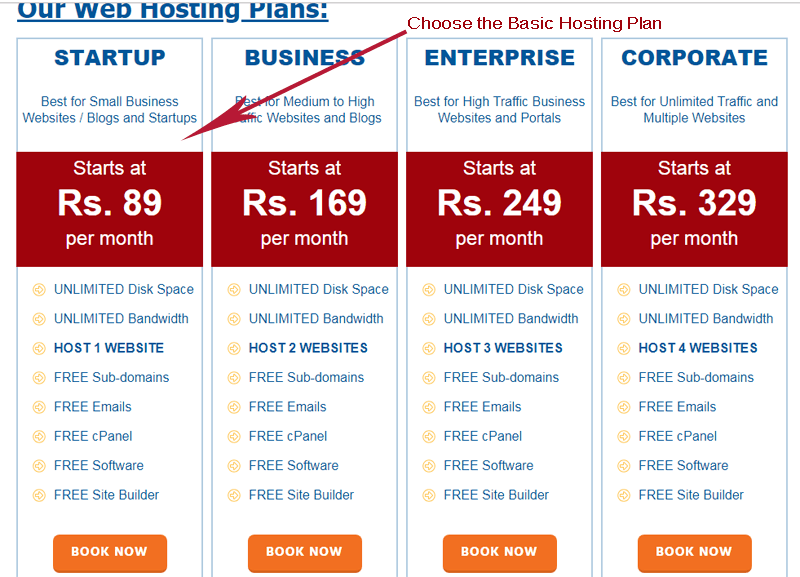 This company offers unlimited web hosting plans starting from Rs.89 per month with all unlimited features such as Disk space, bandwidth, etc.
The Basic Startup Hosting Plan is all enough to create your first website.
Now press the book now button to proceed to the checkout process and complete your purchase.
STEP 3.3 – Find the Right Domain Name: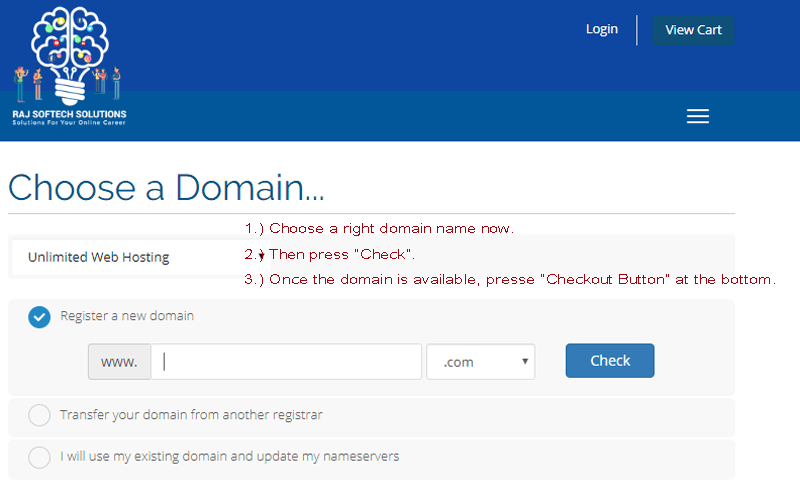 This is the next step in this process. You have to be very careful in choosing your domain name because you can't change this in the future.
Check for the right domain name availability in the domain search tools provided by Bluehost.
The domain example: easyonlinehomejobs.com (no capital letters, no spaces, no special characters).
Once the domain is available you will be taken to the registration process, else you will be given a few other suggestions or alternatives.
Choose only .COM version of the domain name for your business, because online business is open always open to the world market.
If you already have a domain name, just enter it in the next column and press "Next" to move further.
STEP 3.4 – Complete the form: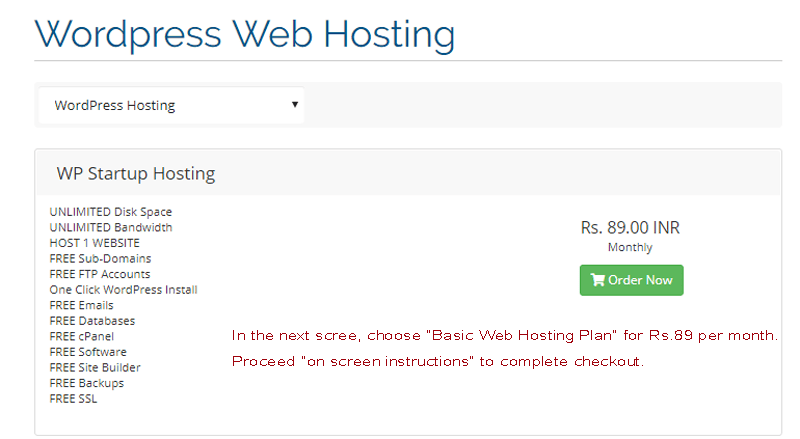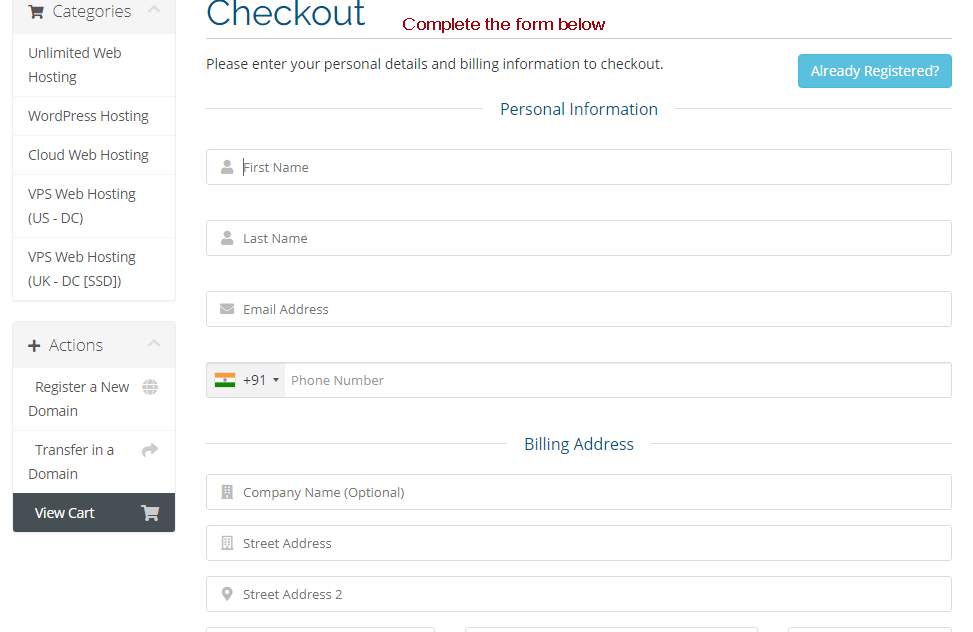 Now, complete the registration form by entering your personal information to create an account for you.
You will need to add First Name, Last Name, Country, Street Address, City, State, Zip Code, Phone number, and Email address.
All your communications will be made through this email and/or phone, so give only true information.
STEP 3.5 – Install WordPress:
With the Introduction of the Word Press Content Management System, creating a blog becomes much easier than others.
There is no need for having special skills and abilities to design a website or a blog.
Today, most hosting companies come with a simple, "1 click installation" in your account. Similarly, in Bluehost,
3.1.) Login to your hosting account.
3.2.) Go to your hosting control panel.
3.3.) Look for the "Website" section and inside you will find the link/Icon "WordPress".
3.4.) Click the Icon to install WordPress on your domain.
3.5.) Choose the best theme suitable for your business.
Types of Hosting
Shared Hosting: This is the most affordable hosting plan suitable for typical newbie bloggers limited to one single domain with less or no traffic.
This hosting comes with some restrictive features such as limited server resources, data usage, and other features.
It will not support you in a long run or once your blog/website starts receiving thousands of visitors.
Virtual Private Server: This is called the Virtual Dedicated server where the resources are isolated and dedicated to a particular blog/website.
A big server is separated into a small virtual server with its own dedicated RAM, CPU, and Processors to power your business website.
The cost expense is medium when compared to a dedicated server, but you can enjoy all the features of the dedicated server.
Dedicated Server: This is very costlier because you are going to purchase your own dedicated server.
When your business website or blog experiences a large growth on the individual plan, you should upgrade to the dedicated server.
However, the above-recommended hosting is enough to create your small business website at the beginning.
4. Prepare a Site Sketch
After completing the purchase of the domain and the hosting, you probably needed to install WordPress themes.
After that, create a blog layout for your business. You can do it either by yourself or hire a professional to perform this action on your behalf of you.
Choosing the best domain name and the perfect hosting is not enough to achieve success in the business.

All the information about the company, product or service should be presented well in sequence.
There is no need to worry about this part because most WordPress CMS themes come with predesigned templates suitable for various business needs.
Hence, it is very easy to create a small business website in just a few minutes. The CMS has a GUI interface which makes it easier to create new pages and create new blog posts.
What pages you needed to create for your business website depends on the specific industry.
Generally, all business websites will have some pages such as Home, About us, Contact us, Privacy Policy, and Disclaimer.
Carefully choose the pages and prepare a hierarchy for your website to provide a better user experience and friendly navigation.
In Easyonlinehomejobs, I have a home page, about us, contact, blog page, privacy policy page, disclaimer page, etc.
5. Design a Logo
The logo is a trademark symbol of the brand website or business, that helps to identify websites easily.
You can see all the websites have a logo and they use to mention it everywhere they advertise their brand.
So, after creating the layout and website structure, design a logo to create a brand in the market.
If you are an expert in Photoshop designing or have knowledge of some designing software, you can create a logo of your own.
The second option is to find the right person on the Fiverr website to offer the service you are expecting for. You can hire a person for $5 for designing a logo.
6. Design your Site
This is the last process of creating a small business website as you have arranged all single pieces ready to put them all together.
A study shows that the website/blog has only 3seconds to pull the visitor or they may leave very soon once they hit your website.
So creating a nice and good-looking website is an important aspect that determines the success of your business.
So what are the important factors to consider in designing the website?
6.1.) Clear Cut Navigation: You want your site visitor to know the service or product you offer instantly.
They should be guided properly on where to go and learn about you and your company, the various products offer or contact any representative, etc.
If the navigation is not clear, then the visitor may leave the site earlier and will never come back.
6.2.) Use Call to Action Buttons: If your sole purpose is to convert your site visitors into your customers, then you should lead them to the sales page, lead page, or landing page as soon as possible.
Creating and implementing a clear call to action button attract the visitor's eye and help them to take the expected action.
6.3.) Make your site faster: As said earlier, your site needs to be fast enough to render all the information in the browser.
Even a fraction of a second too long will negatively impact your site's SEO and people often leave quickly.
So make sure to choose the right hosting company for your business (I recommend BlueHost).
6.4.) Make your site responsive: Google study shows more than 80% of the site visitors are from Smartphones and mobile phones.
Hence create a responsive site to fit all different screen sizes to grab more customers. Google recently announced a change in its ranking algorithm.
A highly responsive site tends to rank better in the search results.
6.5.) KISS (Keep It Simple Stupid): Don't overdo the design and use many colors to tell what you actually want to see.
Most people often feel annoyed and leave your site often sooner. Keep the information precise and simple on every square inch.
Allow more white spaces for legible reading and focus attention on the subject matter.
Conclusion
When you prepare to launch a new business, do not forget to create a small business website/blog for your business.
The Internet is everywhere and all traditional business has elevated their online presence with a website.
Consider the user experience and write content for the users without stuffing keywords.
Concentrate on delivering quality content, rather than just focusing on money. Thanks for reading this article.
Creating a website may be a daunting process, but if you have the true interest and the focus, it may then look great.