Planning to Start a Blog, find the best blogging platform to start this year.
Hi friends! Have you heard about a blog before? What is a blog actually? Ok, Let me explain it.
A Blog is a kind of website, which is frequently updated with the latest information either by a single person or a group of people who share their views and knowledge about some topic.
You can create a blog either private or publicly accessible. Usually, blogs are created to educate, connect people and lead on the path to making money too.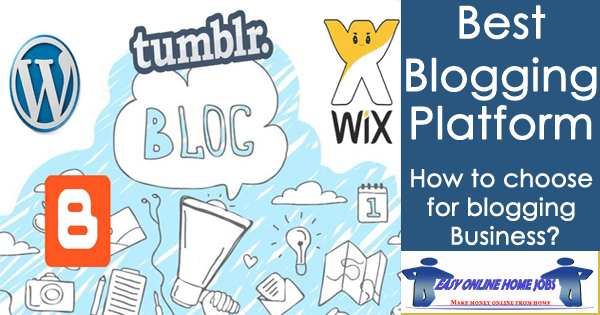 What is Blogging Business?
You can see many people saying that they are making money through blogging. So what is this business actually?
It's a simple marketing strategy in that you can post content and update the latest information about your business to generate revenue.
There are many best blogging platforms available to start this business and in this article, I have recommended a few platforms for your knowledge.
Blogging helps to increase your prospective customers by increasing your online visibility, and brand awareness and finally results in huge business growth.
How to Start a Blogging Business?
Now, let us discuss the steps to start this blogging business. I will give you an idea related to the items you need to purchase online to start your business blog.
These are the main guideline steps to follow:
1.) Choose the Best Blogging Platform
It's your turn to make the right decision, because writing, publishing, and sharing it on social media using the best blog consequently gain high value to your business.
There are many blogging platforms available but as a beginner, I will suggest you use the more flexible, user-friendly, and free open-source search engine platform WordPress.org as your business blog.
It manages content, controls the website provides added features, and a lot of free themes and layouts are also obtainable too.
So you can avail the best themes and you can able to customize the look of your blog.
There are other alternative blogs next to WordPress like Blogger, Tumblr, etc can also be preferred for your blogging business.
2.) Register a Good Domain Name
After deciding on your blogging platform, choose a domain name for your blog. The domain name is known as the URL of your website which is used to access your site on the Internet (for example www.easyonlinehomejobs.com).
You can also use the second-level domain or otherwise known as a sub-domain, such as myblog.wordpress.com (But I will not recommend this idea).
Now you can buy TLD domain name registering via popular domain registrar like NameCheap, BlueHost, iPage, GoDaddy, HostGator, etc…
It may cost around $10 – $14 per year to register your domain. Raj Softech Solutions provides the best domain registration services in India at the cost of Rs. 769 per year for a .com domain name.
Important:
Make sure that your domain name is easy to remember and differentiates your site from other businesses. It plays a major role in marketing your brand in the business community.
3.) Web Hosting:
After you have registered your domain name, you should purchase reliable web hosting services for your online business blog.
Web hosting is an internet service provider that provides the storage space on a server which makes your business webpage to be accessed easily by people.
Web hosting is usually done in the data center which allows the clients to publish their website on the internet. They also provide data center space and internet connectivity for servers.
Types of Web hosting:
These are some of the types of web hosting that a business owner can use according to the type of business he runs. They are:
i.) Shared Web Hosting
ii.) Virtual Private Server (VPS) Web Hosting
iii.) Dedicated Web Hosting
iv.) Cloud Web Hosting
How to choose the right web hosting company?
Good web hosting gives you a reliable hosting experience and thus guarantees you anytime access to your website on the Internet.
Before choosing a web hosting service, look at the prices, location, server specifications, guarantees, and customer reviews.
4.) Blog Design:
Designing your blog is very important to attract your weblog visitors and to make them stay on the pages for a long time.
A good blog design will fulfill the following conditions written below.
1.) Fulfill the basic structures like header, menu, navigation bar, and search bar, highlight main content with the latest blog posts, sidebar showing profiles, advertisers, and other details, footer showing the disclaimer, privacy policy, contact page, etc.
2.) Design your blog in a pretty, unique, and professional way but also it should look simple. More complications in design will create a loss of interest for the blog visitors.
3.) Use a perfect color, font, and font size.
Don't worry about blog design, since we have thousands of readymade WordPress themes available that are suitable for your business needs.
All you need is to just purchase the right theme and install it on your domain. A piece of basic creative knowledge is all enough needed to design a high conversion blog.
5.) Write Creative and Informative Content:
Even if you have a brandable domain name with reliable hosting and very good design, you should have readable interesting content to attract visitors.
So you should spend lots of time writing the best content to explain your business. Your content should be in a manner that puts visitors to read out the entire information shared.
Provide useful resources for your blog readers and make them learn something. Here are some points to remember while writing content in the blog
Know your target audience
Choose an interesting topic to turn the audience site at your blog posts
Give a headline that is both informative and should focus on the keyword
Now productively write the content by displaying the important components, relevant facts, information, etc
Post images, and videos to make it more appealing in appearance
Edit your content to avoid blogging mistakes
Organize and optimize your blog content to make it a readable form and to make it better for SEO
6.) Digital Marketing:
Digital Marketing is the process of marketing products and services mainly on the internet through digital channels such as search engines, social media, email, and other advertising media.
With the vast development of the Internet and its technologies, Digital marketing has seen a new height in this era
Almost, all businesses have started to improve their online business to increase their sales and expand their market.
How does Digital Marketing help in business blogging?
If a visitor or a customer or a reader wants to find you, they will perform a Google Search and in turn, Google will recommend your site on their result pages.
To represent your site by Google, you should perform various digital marketing activities like SEO, SEM, SMO, SMM, Email Marketing, etc.
By that time,  your website will acquire a higher page rank with the respective search engines.
This will help your business to become famous and makes money soon. Some famous digital marketing blogs are Moz, HubSpot, Content marketing institute, Socia Media Examiner, Search Engine Journal, etc
How to Choose the Best Blogging Platform?
Here are the top 20 best blogging platforms you can use for your business.
1. WordPress.org
WordPress.org is the first preferred and most popular blogging platform which offers free software (theme) to build your blog.
WordPress provides you with complete control of your website in a search engine-friendly way. There are more than 20K + themes available to design your website.
You can improve your site experience by adding various plugins, forums, membership, etc… They have their web hosting to host your website on the Internet.
2. WordPress.com
WordPress.com is owned by a company called Automattic, created by Matt Mullenweg who is the co-founder of WordPress.org.
They also provide a blog hosting service and an open-source website that is easy to use and manage.
You can purchase a custom domain name, storage space, etc… But there are only limited options for this blog to use.
3. Tumblr
Tumblr is a microblogging social network platform founded by David Karp in 2007 providing multimedia services.
Their software is free, easy to use, and can fastly blog images, videos, GIFs, and audio formats.
The features include Themes, Dashboard, Queue, Tags, HTML editing, Reblogging, built-in sharing tools, etc…
But you cannot extend your blog as it has only a limited set of features.
4. Blogger
Blogger is a blog-publishing service software developed by Pyra Labs and acquired by Google in 2003. It is free and easy to use.
They are generally accessed from a subdomain called blogspot.com and the main advantage of a blogger is that the blogs are hosted by Google which provides a safe platform with reliability.
It is a basic blogging platform and has limited added features when compared with WordPress.
5. Wix
Wix is a cloud-based hosted platform to build websites. The blog is easy to set up.
The top features include it has a drag-and-drop website builder which is very useful for small businesses to build their websites.
The Wix also provides designer-made templates, HTML5 capability, large media collection including images, videos, music, and more.
But creating a free account is limited, shows Wix ads on your website, and does not allow other apps.
6. Medium
Medium is an online blogging platform developed by Evan Williams and launched in the year 2012.
This platform is mainly used by a community of writers, journalists, professional people, and bloggers. It is free and easy to use.
The features are limited in designing this blog and you are not able to improve your brand more.
7. Squarespace
Squarespace is a website building, and hosting service provider and mainly focuses on small business owners to create an online future.
The website can be built using drag and drop tools. It is simple and easy to use. It also offers domain names with SSL/HTTPs too. But it has limited page capacity.
8. Ghost
Ghost is a platform mainly used for blogging and writing. It is different from other blogs that it needs the blogger to pay money on how much traffic he/she gets, though a free trial is available.
It is an open-source hosted software and easy to use along with an intuitive user interface and runs fast. But it is not easy to customize the apps, no many themes are available to apply for your website.
9. Weebly
Weebly is used to build websites using drag and drop tools and enables you to create new pages quickly.
It has more than a thousand themes so you can customize the page using its web-based interface.
Weebly is easy to use but the built-in features and added features are limited with limited integration.
10. Edublogs
Edublogs is an online blogging platform created mainly for educational purposes and mostly used in schools, colleges, and universities.
The blogs developed by Edublogs are powered by WordPress where a community of educational bloggers is engaged.
It provides excellent support for students and teachers to learn about their subjects. This blog provides a lot of themes and a good storage space.
11. Joomla
Joomla is a self-hosted and open source content managing software system, just similar to WordPress.org, and is easy to use.
You just need to buy a domain name and web hosting to use this application.
It provides added features like templates and extensions available to customize your blog.
But they have only fewer themes and are limited to community support.
12. Jeykyll
Jeykyll is a blog publishing software system and is used both for personal and organizational project works which were written in Ruby.
It renders Markdown and can be turned into a robust static site to host which is popular due to its adoption by GitHub.
The features include it being flexible, can be used as Bootstrap, and many others. It is free and easy to use.
13. LiveJournal
LiveJournal is just like a blogger and was started in 1999, which can be used both as a blog and as a social networking tool.
They encourage interaction with people and is offered in several languages.
It lacks many needed features and doesn't have any professional templates.
14. Drupal
Drupal is an open-source content management software written in PHP and is distributed under the GNU General Public License.
It was founded in the year 2000. It has drag-and-drop tools and is flexible, and is perfect for content writing due to its reliability and security.
Many free modules, themes are also available.
15. Svbtle
Svbtle is a writing and reading blogging platform founded in 2012 by Denis Curtis. It provides added benefits like copy-editing and fact-checking to all members.
16. Yola
Yola is a website builder and uses drag-and-drop tools to build websites just like the features you may see on Weebly.
They also provide domain registration services as well.
It has an excellent style editor,eCommerce features, and a simple user interface.
17. Contentful
It is a multilingual online content management system and development platform that provides you with an API, cloud-based platforms, query filters, and any kind of content template that allows the user a first-class experience.
18. Pen.io
Pen.io was launched in 2010 by Anthony Feint and it is a fast online publishing platform that uses drag and drop tools. You just have to choose a URL that no one has claimed, a password, and start writing.
19. Postach.io
It is a free blogging platform that uses "Evernote" to create blog posts and manages the content. It offers both Markdown and Multimedia support.
20. Cloudflare
Cloudflare is a simple and flexible content delivery network(CDN) that is reverse proxied via Cloudflare with cached content and serves directly from it. It offers a free domain name server(DNS) and has the highest number of internet exchanges.
Conclusion
Many people were starting blogging businesses for their career development as blogging has great potential in the coming days.
Even, after completing my Engineering studies, I straight away went into the blogging business and now I am earning a decent income nearly equal to my monthly salary (if I go for a job).
So, I strongly agree to start your blogging business by choosing the best blogging platform such as WordPress, and lead your way to success.
I hope this article helps you to know a little insight into what you are looking for. Make use of it and start your blogging journey.