Affiliate Business success lies in the value of the Affiliate Marketing Content that you publish on your blog.
Every people want to make some extra money from their home and Affiliate Marketing is the best online business to make more than $1000 every month.
Anyone can start an Affiliate Business by creating a blog in just minutes, but Affiliate Marketing Content determines the success of their business.
Why?
The Affiliate Marketing Business means, "make money by promoting other merchant's products (or) services and earn a commission for every sale you made on behalf of them".
You cannot just post any product on your blog and cannot make sales just by driving people to your blog.
There are lots of processes such as you have to explain the product, compare other similar products and more.
Finally, convince the audience to make them buy the product.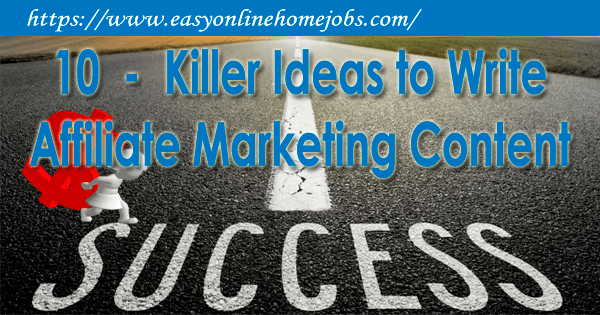 You should write compelling affiliate marketing content to convince your audiences to purchase the product (or) service recommended by you in your blog.
In this article, let's discuss how to write the best affiliate marketing content that may bring you,
More sales online
Outrank your competitor's
Increase your blog audiences,
and proportionately increase your monthly income by blogging with Affiliate Marketing.
Let's start with an introduction and first we will see interesting facts about affiliate marketing:
1. What is Affiliate Business?
It is a performance-based business model where a person will be rewarded for his work to promote a product or service from the merchant.
For every sale you are completing through your marketing strategy, you will be paid a commission from the sale.
It is the best business model which will earn you 365days round the clock once you properly set your right platform.
Must read: What is Affiliate marketing business? A step-by-step guide.
2. How to Start this Marketing Business?
To start this business you need to have your own blog and an affiliate account with any of the marketing websites such as:
Amazon
Commission Junction
Shareasale
All these websites were entirely working on an affiliate program where you can choose to sell any one product and earn a commission for every sale.
Though there are many affiliate business websites out there on the internet, Amazon has the unique feature which I have described in the below article.
Continue reading: Why Amazon affiliate program stands best out of the rest?
3. 10 Ways to Write Better Affiliate Marketing Content
Affiliate business is the best business as already proven but you can make this business a successful one if you have your own blog.
Blogging is not just easy as it requires continuous updates over time which will make your readers visit often repeatedly.
If you have not kept your blog updated then there is no use in it. Because if there are no visitors, no sales, and no earnings.
Content is the King, because in whatever business you have to explain your service or offer through a blog post.
Hence, there is always a great demand for content writers for blogs and websites.
Many people start an affiliate business by creating a blog and posting some content about a product and putting some affiliate links.
These are the biggest affiliate marketing mistakes as just writing some random information and promotion won't give you any sales or leads.
In this article, we will continue to read about how to write effective content for your site visitors to pull them to purchase products or services from your blog.
3.1. Write your own Experience
Before planning to promote any product in the affiliate marketing business first purchase the product to try and use it personally.
This will absolutely give you some experience with the product and you will come to know its pros and cons.
Always promote the product which you have already tried personally and don't write about a product that you haven't tried.
If you are recommending a restaurant to your friend to dine on a weekend but you haven't dined ever? Think whether if your friend will try? Absolutely no!
Why? Because readers always watching you and your blog, noticing your activities around, and always judging your credibility.
You can increase your credibility only if you have promoted the right product.
Never try to promote any product just for the sake of a commission because you will lose your credibility and your site visitors.
Because your readers will have some questions for you about the product and they need you to answer them?
Over further next step, promote the product by writing a detailed review on how the product benefited you? or providing you with something that you have expected specifically.
3.2. Let Them Give What They Need For
When are you about to write affiliate marketing content for your affiliate product for promotion always keep in mind that write focusing on the usage of the product and how the customer will be benefitted once he purchased it.
Try to explain every means that what your reader wants and how much they are willing to invest in the product you promoted.
No one will purchase the products that were of no use to them, so try to explain more how the product will be useful.
This approach will give you a positive response among your blog readers and will give a way that you care about your readers which will make them try once and for all.
Your affiliate business will be there for longer still.
3.3. Let's be Honest
Nobody will show interest to purchase a product that you promoted that you haven't tried personally.
It is an important thing that most people always make a thorough research and review a lot of the product before purchasing.
If you promoted a product that you weren't tried personally and if on another blog the same product has been promoted and wrote his own experience, then sales will be made there only and not by you.
Readers always wanted you to be honest, which means including negative feedback as well.
No products were 100% foolproof they had only pros.
In the above case, people will buy the product through that blog only that expresses its own thoughts and you will end up with an empty hand.
In the worst case, you will lose your honesty among your blog readers.
If you don't have trust and honesty and haven't built anything in the same context on your blog then there is no way that your business get succeeded.
3.4. Write your Own Story Naturally
While writing a review about an affiliate product that you are going to promote, write in a way that should be a friendly recommendation to your blog visitors.
It should not feel like a direct product promotion as it will impact another side which will reduce your total sales.
Important rule in marketing, "if your audience doesn't love it, they won't buy it".
So whenever you write affiliate marketing content always keep this in mind, and try to incorporate some mentions, and recommendations about the product.
Also, get testimonials from other users and mention them in the article which will add more value to your writing.
This will also keep your content fresh and will help you to travel a long way to build a quality readership and trust in the product you mentioned in your blog post.
These kinds of actions will simultaneously increase your total sales because your blog content has helped you to build relationships with your readers apart from just promotions.
3.5. Use Various Resources
This business empowers the usage of products in real-time life and hence trusts play a vital role.
Your promotion strategy shouldn't feel formalistic and more over your content should be as fresh as possible.
No people will buy a product through your Twitter promotion or come to your blog and click your banner to make their purchase.
They will just want to find what they need about the product and if you satisfy their need, you will then make the sale.
It can be anything and can be of any resource such as just social mentions, brand mentions over flyers, emails, etc.
At last use every possible platform to promote your product naturally in a way your readers like to make your business successful.
Use various marketing strategies available to drive visitors from various sources which will help you widen your market will help to increase your sales.
3.6. Promote Trending Products
Again, a customer is the center of your affiliate marketing business and it is just to focus on products that your customers love.
If you do not do so you will lose your potential market.
Keep on promoting the same product over a long period will make your blog visitors often bored and they might avoid visiting your site back again.
So, you just need to update your blog with trending products over time so that your customers will likely visit often to try new products from your recommendations.
Always write contents for your visitors, put their preference first which will ultimately make your business a successful one.
3.7. Express the Quality of the Product
Again Affiliate marketing is not just promoting some physical product (or) services to your blog audiences.
Never ever promote any products (or) services that you (or) your friends have tried earlier in their past.
It's not about selling by writing some magical content explaining the product. You should write a real review of the quality of the product.
If the quality is better, appreciate them and if it is bad, discourage them.
This way of writing affiliate marketing content will help to increase your trust and transparency among your blog audiences.
This helps increase sales in the future because you have already created trust by writing the true quality of the product.
Moreover, if the product you recommend is of low quality, then you can show some alternative suggestions for the same product.
So that your blog readers may try the alternative product based on your recommendation.
3.8. Give Some Guidelines
People are searching the internet for some literal resources to learn before trying the product.
If you wrote similar affiliate marketing content explaining the purpose and the uses of the product, you will get a chance for more sales.
Because you are guiding the people in the right direction by explaining the worth of the product to them.
For example, if you are running a web hosting affiliate blog, and you are recommending the affiliated hosting to buy.
Just placing the banners and links won't give you any sales.
Because you should write an article explaining the procedures involved in choosing the right plan, placing an order, how to make payments, etc.
You can compare other hosting as well and let them choose based on their needs. Guiding people is a very good positive approach to becoming a successful affiliate marketer.
3.9. Announce the Future Benefits
Almost all businesses have either an in-house affiliate program (or) affiliated with external programs such as CJ, Amazon, etc.
So this business has a huge potential to make money online. People were so clever before trying any product.
Even if you buy a two-wheeler, you will think about the future resale value. If the product has resale value you will buy the one immediately.
At the same time, if it doesn't have one, will you come forward to buy one?
So this applies here, whenever you promote an affiliate product on your blog, write some futuristic benefits of the product.
This will help your readers to decide between buying the product.
3.10. Product Comparison
This is another great technique in Affiliate Marketing Business. Answer all the questions about the product that arises from your blog audiences will help increase your sales.
People usually buy the product after they have crystal clear information before trying it. Also, they want to compare with the other brands on the market.
In the above similar example, you compare Godaddy Hosting and Bluehost Hosting on your blog. Create a comparison checklist and publish it on your blog.
Finish your article with the right decision on choosing the best product to buy. This will make your audiences interested and pull them to make a purchase.
Writing these kinds of affiliate marketing content puts out a piece of extremely valuable information to your blog visitors.
This will bring them to make a final decision to buy the product you compared in your post. You can be sure of selling at least any one of the products you listed in the comparison article.
Last thoughts,
If you wish to be a very successful affiliate marketer then you should first know your blog visitors' preferences in your mind.
Your blog should be for your visitors and not for search engines.
A blog for them and not for you, always promote a product that you tried personally and write honest reviews about the product.
Incorporate things naturally such as your experience, pros, and cons, testimonials from other users, etc.
Use various marketing strategies and approaches.
Promote the product that trending today with fresh content.
Write quality affiliate marketing content and update it to keep it as fresh as possible to make your site visitors engage more.
At last, it's so easy to write content for a proper affiliate business if you know how to induce the above ideas into your content strategy.
At last, you will become the most successful affiliate marketer ever.
"Don't stop when you're tired.

Stop when you are done"