Working with online surveys is the best way to home-based online jobs, learn how it works to earn income from home
What are Surveys?
Surveys are a sequential set of questions that might be about a product or service (usually 10 – 15 questions).
Those questions were framed in need to collect reviews and suggestions about a product or service from the people and are conducted via survey panels.
Let us say, for example, we are all using Samsung smartphones.
Samsung Company never stopped updating their models or renovating their existing models and these can be done only by continuous research and development.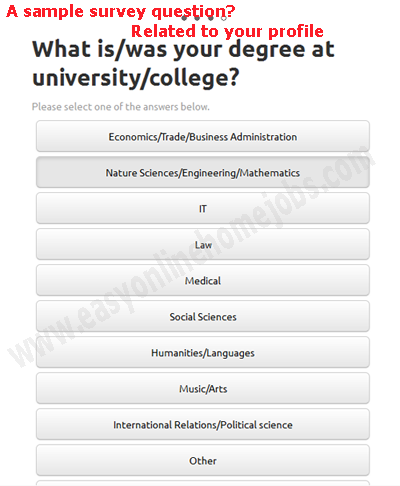 The most interesting thing for a successful product in the market is the one that satisfies customer needs.
To get that valuable feedback's from the customers, the only possible way is to conduct online surveys and collect their feedback and suggestions from those customers and use them for their product improvements.
In this case, the Samsung Company cannot come directly into the market to meet the customers to get them their feedback.
So these companies will give this work to an online survey portal such as,
Toluna
I poll
Opinion world
Worthyshout
etc.,
to conduct online surveys on their behalf.
These survey sites will conduct surveys and submit the reviews.
Must Read: Genuine Survey companies to register for free to earn money
For this work, they will charge some fee.
After getting the survey project from the Samsung Company, these survey sites prepare everything to conduct surveys and invite people like us via email to attend those surveys to answer them.
On successful completion, we will be rewarded either with cash or Gift vouchers.
What are Survey Sites?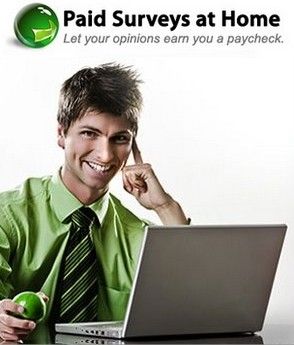 Survey portals are internet sites that have a huge database of different kinds of people from all over the world.
Their main work is to conduct online surveys from time to time on behalf of many multinational companies.
In this case, I described the Samsung Company.
The above said Samsung Company was in a position to improve or create a new product, so before beginning, they want to know customer requirements in their new project.
They can't come into this market directly so they will contact these survey sites to conduct an online survey.
These survey sites are having huge numbers of members databases and so it is easy to get customer feedback from huge members within a short period and they are ready to spend millions of dollars to know the customer feedback and suggestions.
These survey sites will conduct online surveys on their behalf and will invite us through Email to attend the survey.
Upon the successful completion of the survey, we will be rewarded either with cash or gift vouchers.
To participate in these jobs, we have to register a free account with those survey sites to gain the opportunity to attend surveys from the companies.
Why Companies Pay for Participating in Surveys?
Customer satisfaction is the only thing for a successful product in any market and these marketing companies need to develop a product based on customer suggestions.
So this is possible through conducting a survey, but these marketing companies cannot conduct surveys directly though they are ready to pay billions of dollars to these surveys.
They seek help from survey sites to conduct online surveys on their behalf.
These survey sites will charge some fees for this work and those fees will be given as rewards for the people who successfully completed the survey.
People like us will not participate in surveys for free so these survey sites constructed a plan like offering cash or points or even gift vouchers as rewards for people like us for attending or participating in those online surveys.
Usually, survey sites pay between $1 – $10 per survey, and the length of the survey will be about 5 – 10Minutes.
If the survey takes more time then the pay rate will be more proportionately.
How to Earn from Surveys?
We can make some money easily by attending online surveys.
Free to join and can do anytime, anywhere.
To earn money, you need to register a free account with survey sites.
After registration, complete your profile surveys related to your personal, professional, academic, travel experience, technology etc and so and so.
Update profile surveys frequently to get more survey invitations.
Sit back and watch your email from time to time for the Survey invitation. Survey sites usually invite people to attend their survey by sending an email invitation.
You will be invited only if your profile matches the requirements asked from the multinational company to the survey sites.
Once your profile doesn't match you won't be invited.
Typical Example
If you have not used any smartphones until today, probably you may answer NO to the questions related to smartphones and their technology in your profile.
If this is the case, you won't get the invitation from survey sites for surveys related to Samsung Company.
Never Be Smart, so don't try to trick to answer YES to those questions to get survey invitations.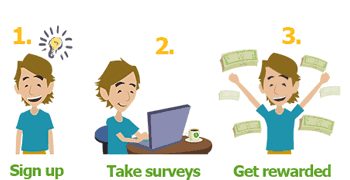 Because before you enter into actual survey questions, you will be asked to answer few preliminary questions to check your eligibility to attend the surveys, all your answers will be monitored in real-time and you will be disqualified to attend the survey if that doesn't match your profile already you completed or doesn't meet the requirements demanded by the marketing company.

Tips to Earn More from Surveys
Register more survey sites to earn more.
Try registering your country portal sites rather than all portals because if you are from India and registered with a US portal site, you won't get a survey invitation at all. Because those survey sites usually check the people who are from the US before attending the survey.
Complete your profile related surveys on the same day of registration.
Update your profile related surveys at least once every week.
Some survey sites usually target customers who using smartphones, so download and install the app if available with the survey site you registered.
People from the USA will get more survey opportunities than other countries in the world.
India ranked next to the USA for survey companies to target.
People working in IT and having knowledge in software/hardware will get more survey opportunities.
Referral Programs
Some survey sites do formulate referral incentive programs.
Referrals are those people like us but they joined these survey sites using our referral link and not directly.
Referring to other people is one of the best ways to increase earnings in survey sites.
Survey sites will pay a part of the commission to you if your referrals completed a survey and you will get a referral commission for the lifetime.
How Will I Get Paid?
As explained earlier, survey sites usually offer incentives as Gift vouchers for completing surveys.
Some sites reward us with points with the minimum threshold to withdraw, and once you reached you can either withdraw as cash via PayPal or Payza and also can be redeemed as Gift Vouchers for Amazon, eBay, etc.
Some sites reward only with Gift vouchers which can be used to buy any stuff from online stores.
It is completely up to you to choose whether to attend the survey or not.
Some Indian based survey sites will pay you via Cheque that can be deposited directly into your local bank but it usually takes 10 -15 days to complete the transaction process.
Confirm the payment option before joining any survey panel.
Important Points to Remember
Join survey sites that are available in your country.
Surveys usually take some time and you need to be genuine while attending the survey.
Complete and update your profile related surveys in your account.
Use referral program if available and earn more.
All survey sites are free to register and never join sites that require the registration fee.
Prefer surveys related to your profile otherwise, it will be boring.
Best Survey Sites List to Make Money
Worthyshout
WorthyShout Survey Company Founded by Sridhar Mani from India in 2013 was one of the best-reputed marketing research companies in South India with services across the world.
Having more than 1 Million member database and still consistently growing with the view to provide Legitimate work from home online free paid survey jobs to all people.
Register them free and make a great move today to create a residual income from survey jobs.
Panel Country: INDIA, SRILANKA, USA, PAKISTAN, SPAIN, SINGAPORE, CANADA, UK, SOUTH-AFRICA
Pay per Survey: Up to $5
Currency: US DOLLARS
Payment: Cash Rewards (or) Gift Vouchers
2. Clixsense
Clixsense Of course, no words to say about this Queen of PTC have embedded with them providing more earning opportunities to their members.
Apart from viewing PTC Ads, as a Clixsense member, you can earn from attending surveys online. It is one of the best survey sites which accept members from worldwide.
They will pay you to reach money for every successful completion of surveys.
Once you reached a minimum of $6 you can request your payout through Payza.
Panel Country: USA, UK, CANADA, INDIA, IRELAND, AUSTRALIA
Pay per Survey: Upto $10
Currency: US DOLLARS
Payment: Cash Rewards (or) Gift Vouchers